Seven-times BBL Trophy winners Newcastle Eagles fell at the first hurdle last night as London Lions avenged December's shock league defeat in style.
The damage was done during a desperately disappointing first period as Ian MacLeod's men paid a heavy price for an inexplicably slow start.
Watch highlights of Eagles vs Lions:
And for the second time this season the Eagles slipped to a fifth successive loss — equalling the franchise's worst run in more than 20 years.
London, meanwhile, bounced back from a mini slump of their own after starting 2022 with a stutter.
And the dominant visitors proved lightning rarely strikes twice after ensuring a classy revenge mission was completed with room to spare.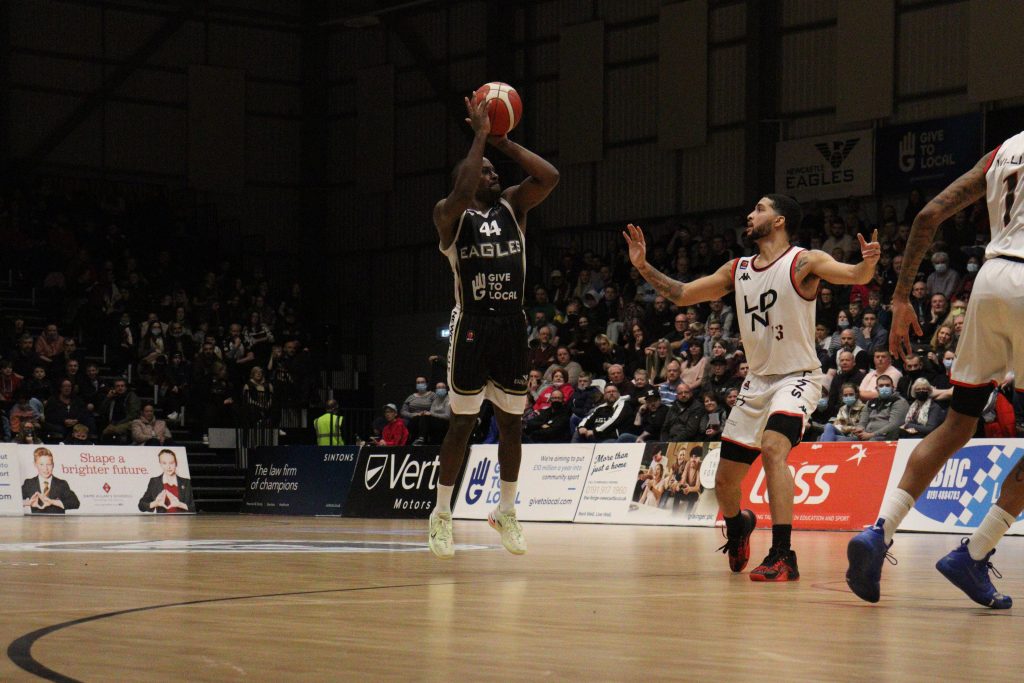 Lions arrived on Tyneside last month as clear favourites to take the win against a Newcastle side still recovering from a string of Covid cases and a spate of injuries.
But London had no answer to the red hot hosts as the Rahmon Fletcher-inspired men in black bulldozed their way to a famous 96-84 win.
That stunning victory against all the odds brought out the very best in a side that had been striving for consistency and quality all season.
And the fabulous Fletcher rolled back the years to notch 25 points, 17 rebounds and four assists in front of long-time admirer and Lions' playcaller Vince Macaulay.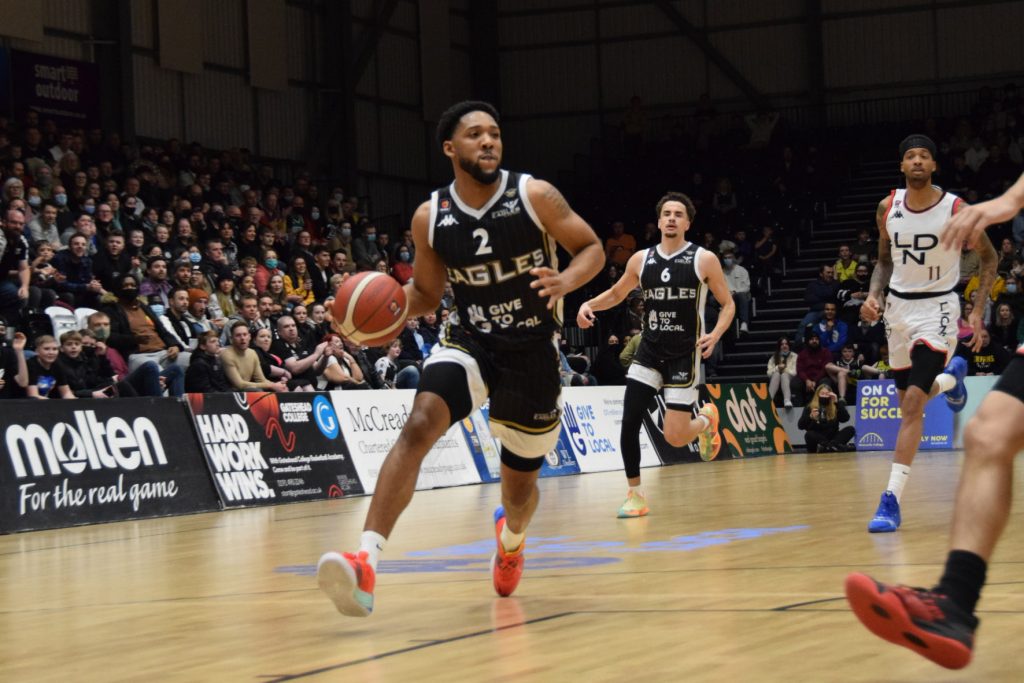 Much like the teams' first meeting of the season, Newcastle headed into last night's BBL Trophy clash under pressure and out of form.
Four straight losses — coupled with long-term injuries to Louis Sayers and Daniel Johnson-Thompson — meant MacLeod's men seemingly faced another uphill struggle against the league's big spenders.
But London arrived in the North East on the back of defeats against Surrey Scorchers and Danish outfit Bakken Bears.
And that painful loss at the Vertu Motors Arena on December 3 was bound to be playing on the minds of the visitors prior to tip off.
Not that is showed during a ferocious first quarter from the FIBA Europe Cup contenders.
The Eagles had no answer to a barrage of brutal outside shooting as three-pointers rained down unopposed on the Newcastle basket.
And the hosts failed to find any kind of offensive fluidity at the other end as MacLeod's men struggled to stay in the game.
As the buzzer sounded on a one-sided opening period the stats provided an eye-watering reminder of the Lions' potential threat.
Macaulay's men sank eight from 10 triples on their way to a 36-11 lead. Six different scorers and 10 points from versatile big man Will Neighbour had caught the Eagles cold.
Newcastle, by contrast, hadn't been able to move out of first gear with the hesitant Wesley Person Jr missing all six of his first quarter shots and that man Fletcher bagging just two points during 10 frustrating minutes.
Was it game over almost before the game had begun? Not quite.
Basketball's ability to deliver stirring comebacks never disappoints and once again a disbelieving VMA was treated to a backs-to-the-wall second quarter revival.
Veteran Darius Defoe did the early damage as the gutsy Eagles clawed their way back into contention.
And former Lion Brandon Peel suddenly burst into life after initially failing to take advantage of his starting five spot.
A London time out two-and-a-half minutes after the restart attempted to halt Newcastle's new-found momentum and a second followed three minutes later.
But by now the re-energised hosts were starting to make a game of a see-saw Trophy tie and a 21-2 tear threw the clash wide open.
That Lions finished the half the stronger of the two teams was testimony to the visitors' own determination to lay down a mid-season marker.
But at the very least the Eagles headed to the locker room with a degree of pride restored after taking the second quarter 24-14 and reducing the deficit to 15.
London had responded well to Newcastle's spirited response to that flat first quarter and the richest club in British basketball looked in no mood to allow the hosts back into an absorbing clash after the break.
Macaulay's men kept the 2020 Trophy winners at arm's length throughout the third period with a fired-up Chris Tawiah increasingly influential in the paint.
And although Fletcher and Defoe edged ever closer to hard-fought double doubles [correct], the short-handed Eagles trailed by 20 points with 10 minutes on the clock.
Ultimately there was no way back for a Newcastle side in desperate need of a win when Manchester Giants travel to Tyneside next week.