| | | | | | | |
| --- | --- | --- | --- | --- | --- | --- |
| Eagles | 22 | 19 | 16 | 9 | 66 | Loss |
| Bristol Flyers | 19 | 13 | 17 | 19 | 68 | Win |
Marc Steutel blamed poor decision making down the stretch on another heartbreaking loss as Newcastle Eagles let slip a 17-point lead against Bristol Flyers.
The hosts finally delivered on the defensive intensity lacking for long periods of a frustrating campaign.
But Newcastle's offence dried up with the winning line in sight as the Eagles managed just nine points from a disjointed fourth quarter.
And a relieved Bristol were able to snatch victory from the jaws of defeat to seal a 3-1 series win and keep their top two challenge on track.
"A nine-point fourth quarter is obviously extremely disappointing," admitted Steutel. "Defensively we were within our targets — we were disruptive and scrappy.
"I felt our shot selection allowed them to have a run but I knew that run was coming. It was about trying to weather that and trying to manage the game in terms of time outs and substitutions. 
"In the end we had opportunities to do what we needed to do but it was a similar story to the season as a whole — we just didn't execute on key possessions."
Steutel was furious with his team's lacklustre start to another must-win fixture and was warned by the officials for his over-zealous criticism of the men in black.
But that early blast appeared to do the trick as Newcastle settled into a solid defensive shape behind Hasahn French's boards and Kyle Johnson's hustle.
And the Eagles fully deserved their 41-32 half-time lead with the BBL's leading scorer Javion Hamlet dropping 17 points before the break.
"At half time I thought we were in a good spot in terms of where we wanted to be," added Steutel. 
"I felt that Bristol were going to make some adjustments at half time which we spoke about — I suspected they were going to load to Javion a bit more which meant there would need to  be some different solutions to some of our actions.
"I'm not sure we found those solutions and it came down to decision making. Did we get the looks that we should have been getting? No. We have to make sure that we make better decisions."
French's first points of the night — on the back of an eye-catching spin move — opened up a 51-34 lead within the first five minutes of the third quarter.
Moments later the impressive Johnson secured his double double after adding a 10th rebound to his 17 points within 19 all-action minutes.
And even the most sceptical of Newcastle supporters must have believed a long-awaited win was on the cards.
But Bristol displayed remarkable resolve to fight their way back into contention down the stretch — overcoming a woeful return of just 7 from 18 from the bonus stripe to claim a stunning come-from-behind win.
Johnson had the chance to fire the hosts back in front in the final four seconds only to miss both of his free throws.
But Steutel insisted the GB veteran was blameless after an MVP display kept the Eagles in contention.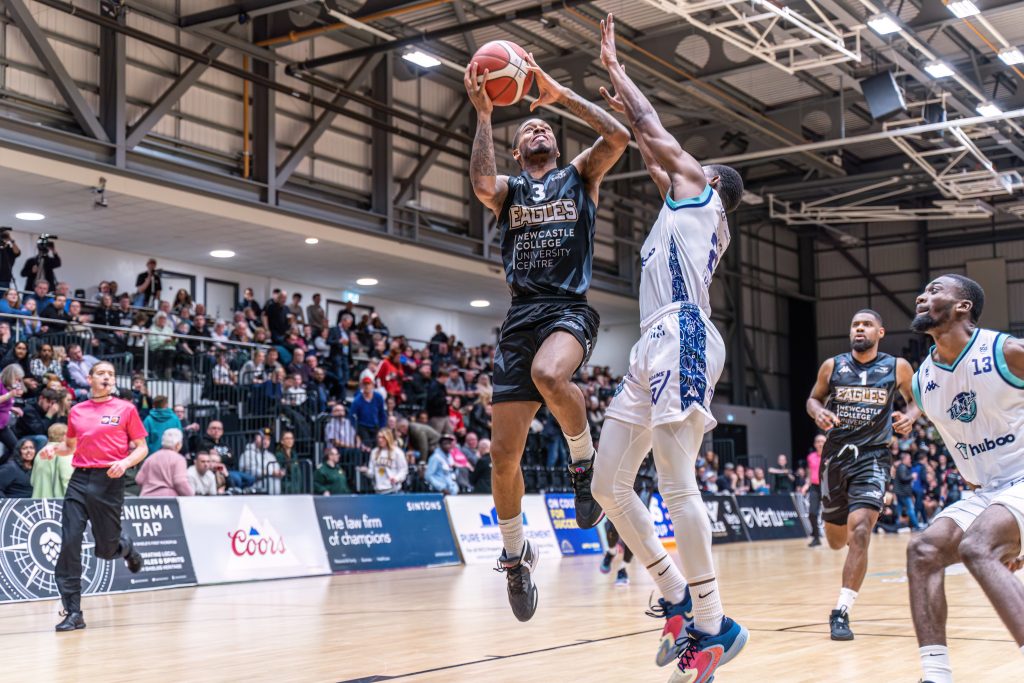 "Kyle is an absolute pro and I know he'll be hurting within himself after missing those shots at the end," added Steutel.
"In those last few seconds we forced Corey Samuels into the shot that we wanted him to take but then we gave up a shot clock offensive rebound to VJ King. 
"It's those possessions that are controllable. After that Kyle did a great job getting to the free throw line and if he doesn't have the game that he has then we're not in a position to win.
"The game wasn't won and lost as a result of those missed free throws — Kyle is an exceptional player and an even better person and I'm disappointed for him that his performance didn't result in a win."
Johnson finished with 17 points, 13 rebounds and four assists on a night when Hamlet led all scorers with 24 personal. 
Bristol's bench contributed half of the Flyers' 68 points with King's 12 points and 10 boards pacing the visitors