A statement game from Cortez Edwards sent London Lions spiralling to a sixth league defeat as Newcastle Eagles went 4-3 for the season against Vince Macaulay's men.
It was a classic case of after the Lord Mayor's show for the capital's big spenders as the BBL Trophy winners came crashing down to earth.
Watch full highlights from Eagles vs Lions:
And it was another ruthless demolition job from Edwards that destroyed the hapless Lions as the Eagles' star man notched 10 points, 14 rebounds and 12 assists.
Head coach Ian MacLeod had promised to hit the reset button following a run of six losses and just five wins since Newcastle defeated London in the BBL Cup final.
And a stunning first half from the men in black suggested Super Mac had pressed down hard on that fabled button.
The hosts blitzed a shellshocked Lions from the tip and in-form Louis Sayers seized his chance to hit eight points in the first three-and-a-half minutes.
Keeping a fit-again Rex Pflueger on the bench, the Eagles' least heralded summer signing lived up to his name as Newcastle's Mr Microwave – heating up faster than any other player on court.
And Sayers went on to hit a season-high 24 points ahead of tomorrow's trip to Cheshire Phoenix.
The hosts were cooking on gas and once again it was difficult to look beyond all-round threat Edwards as the catalyst for a remarkable first half masterclass from MacLeod's fired up players.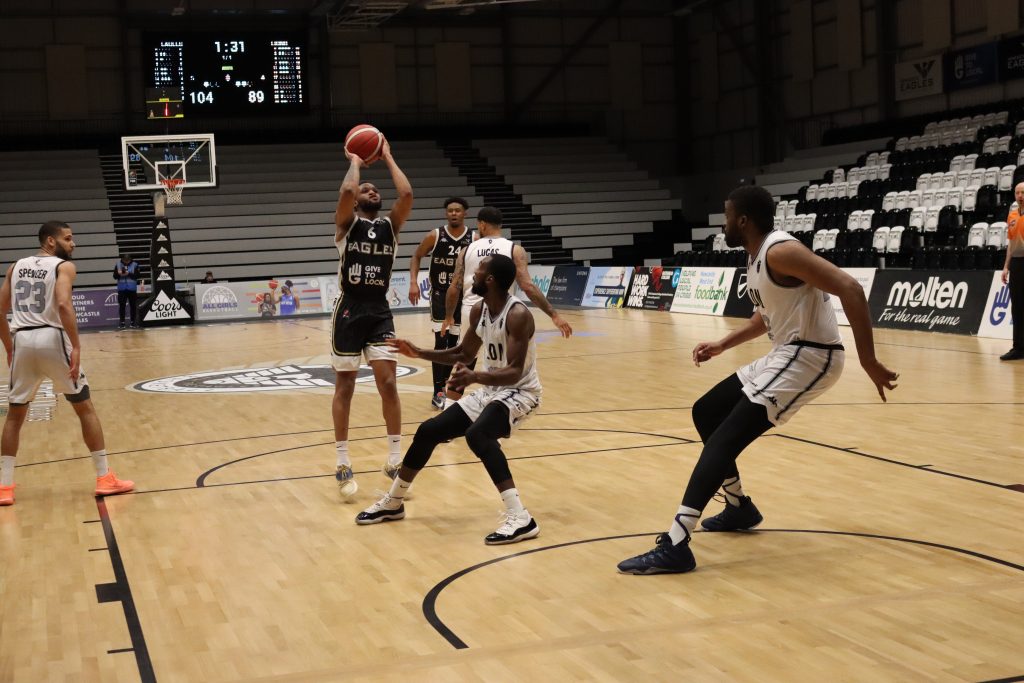 The versatile guard's half-time stat line looked too good to be true as he added 10 rebounds, seven assists, three steals and two blocks to his four points.
And this always looked like the night when Edwards would finally pin that elusive triple double.
March Madness might be gripping the US right now as college basketball's season-ending tournament reaches its typically dizzying denouement.
But this was a crazy, crazy night on Tyneside as the Eagles kissed goodbye to their recent ropey form and looked every inch the Newcastle of old.
On any other Friday, 36 first period points would have been the only talking point as the final buzzer sounded on a spectacular opening quarter.
But it was Deandre Liggins who stole the show after a meltdown of epic proportions.
After lording it over Plymouth on his way to BBL Trophy glory six days earlier, Liggins' spectacular fall from grace had to be seen to be believed.
The 2011 NBA draft pick had been held scoreless for the first nine-and-a-half minutes of a fast-paced first quarter.
And last Sunday's Trophy MVP was clearly frustrated at his lack of opportunities and Newcastle's free-scoring start to the contest.
It all got too much for the former Orlando Magic, Cleveland Cavaliers and Milwaukee Bucks man as he watched his team-mate tumble to the floor at the offensive end.
Liggins was vocal in his criticism of what looked for all the world like a legitimate 50/50 call.
But the forward's foul-mouthed response to a first technical foul earned him an immediate second and London's star man was ejected from the Vertu Motors Arena with his team trailing 34-17.
Requiring a response befitting their BBL-high budget, Lions did trim the deficit to 12 during a spirited start to the second period.
And the previously imperious Eagles finally faced some serious pressure.
A robust response — sparked by powerful back-to-back three-point plays from Evan Maxwell — must have delighted MacLeod.
But even he couldn't have predicted that one press of that reset button would lead to a 64-44 advantage at the half.
The visitors did win a feisty third quarter 26-21 and managed to move to within 10 points of Newcastle in the 27th minute.
But once again it was London's indiscipline that caught the eye as an out-of-sorts Dirk Williams tried to draw Rahmon Fletcher, who finished with 26 points and 14 assists, into an off-the-ball spat.
The Eagles' skipper was having none of it as he laughed off Lions' latest — and lamest — attempt to disrupt MacLeod's men.
Newcastle led 85-70 with 10 minutes on the clock but back-to-back Sayers triples restored the hosts' 20-point advantage with five minutes remaining.
And when a moaning McCaulay picked up a technical three minutes from time it was game over for the vanquished Lions.