| | | | | | | |
| --- | --- | --- | --- | --- | --- | --- |
| Eagles | 30 | 31 | 26 | 21 | 108 | Win |
| Patriots | 21 | 19 | 28 | 28 | 96 | Loss |
Newcastle Eagles secured a precious 108-96 win over Plymouth City Patriots thanks to their best offensive display of the season.
Marc Steutel's men put their shooting struggles behind them to earn their second league victory, breaking the century mark for the first time in the process.
Watch full highlights of Eagles vs Patriots from the Sky Sports coverage:
Javion Hamlet put in a superb solo display, top-scoring with 31 points and adding seven assists and five rebounds, but he was not the only one. Jermel Kennedy ended with 19, while David Cohn and Darius Defoe finished with 12 apiece.
It was an encouraging night for Newcastle, whose next three home games are all at home. That could be key to turning their season around after back-to-back wins at the Vertu Motors Arena.
The revolving door continues to spin at a dizzying rate, with 6'9 forward Justin Everett the last ace to join, replacing the released Lesley Varner on Thursday.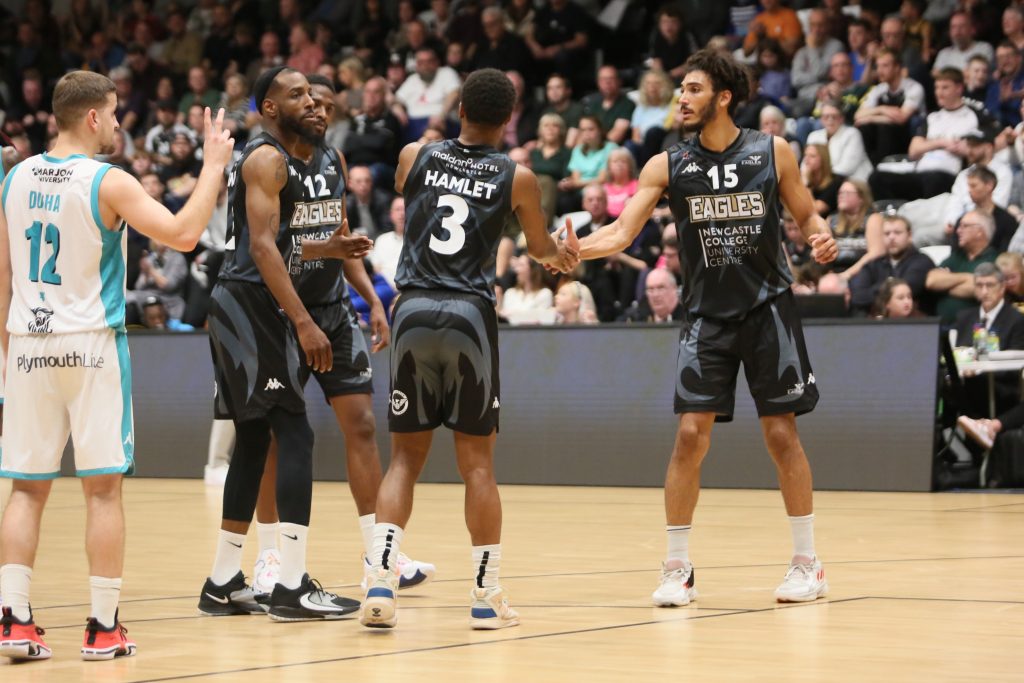 And the frantic pace extended beyond just off-court activity as the two sides raced from end to end, with the home side moving the ball confidently and, crucially, seeing shots drop.
Despite being deprived of the BBL's leading scorer, Antonio Williams, the Patriots possessed players capable of causing problems. Markedric Bell and Troy Simons both hit early three-point shots, but the hosts were not to be denied themselves.
Perhaps all the personnel changes are making a difference as they looked a totally different side from the one that has started so slowly this season. Hitting shots, hauling in rebounds and showing grit at both ends, they slowly but surely pulled away from the Patriots.
A key nine-point run that started and finished with points from captain Defoe put them in a commanding position. And fellow big Duke Shelton ended a very encouraging first quarter by converting a lay-up to make it 30-21, with the Eagles firmly in control.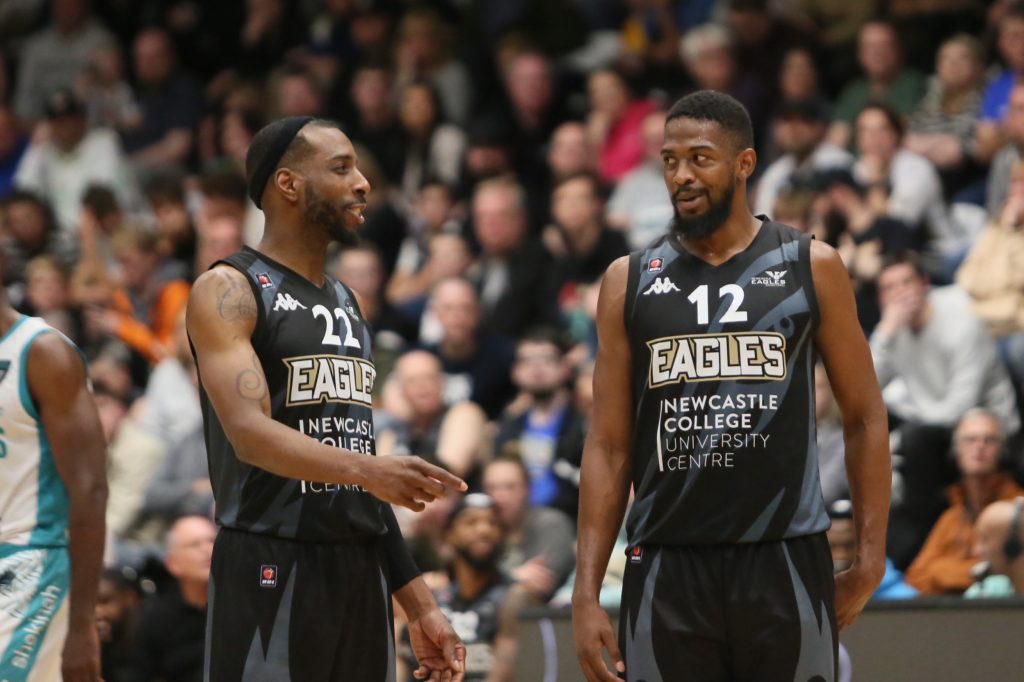 And after a slightly slower start to the second period, new man Everett and then Kennedy drained three-pointers before Hamlet reeled off the next seven home points, keeping the Patriots at bay.
Leading by 14, the Eagles' confidence was evident and the foul-prone Patriots contributed to pay for their indiscipline.
Kennedy, Hamlet and Everett all converted long-range shots as Newcastle ended the half shooting an incredible 65% from the field.
Watch Javion Hamlet's highlights that made him MVP and top-scorer on 31-points:
Averaging little more than 70 points per game, the Eagles' dominance at both ends was reflected in a 61-40 half-time lead that they deserved.
Veteran head coach Paul James sent out his Plymouth side fired up and they recorded a 9-2 run but the Eagles rallied once more.
When Denzel Ubiaro hit a three-pointer against his old side with three minutes left in the third quarter, the lead was up to 23 points.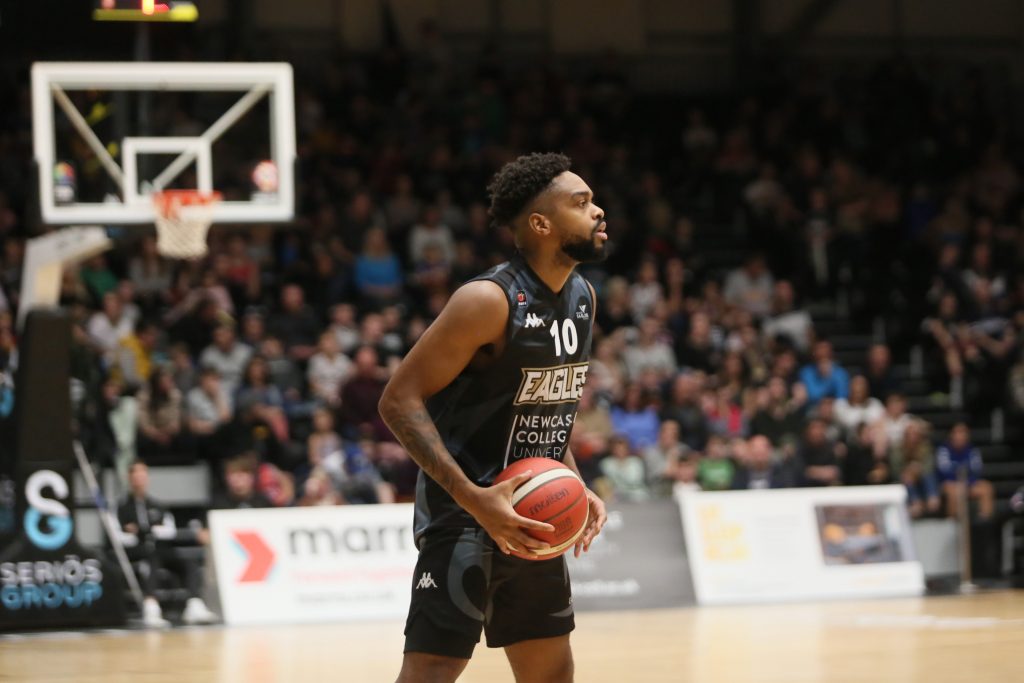 Plymouth again pulled it back a little but going into the final 10 minutes with an 87-68 lead, all Newcastle needed to do was manage the game.
The contest got a little scrappy but there were still moments of quality. Hamlet showed his creative side, floating a beautiful pass up for the airborne Kennedy to slam-dunk home. Shelton then recorded his own dunk to make it 94-76 and with less than six minutes left, it should have been game over.
Watch Kennedy's alley-oop dunk:
The Patriots had other ideas as Rashad Hassan, Elvisi Dusha and Simons set the Eagles' nerves jangling and cut that lead down to 10 with two-and-a-half minutes left. But having already received one technical earlier in the game, Simons imploded. When he was given his second technical he was ejected from the arena. The contest was over and threatening to boil over.
Hamlet and David Cohn saw the Eagles pass the 100-point mark while the visitors gamely fought on despite the futility of their situation on what was an entertaining night at the VMA.
The Eagles will look to make it three home wins in a row when they host Surrey next Friday night.
Tickets for Eagles vs Scorchers are on sale now from the box office.