| | | | | | | |
| --- | --- | --- | --- | --- | --- | --- |
| Durham Palatinates | 20 | 6 | 14 | 21 | 61 | Loss |
| Newcastle Eagles WBBL | 16 | 18 | 28 | 15 | 77 | Win |
Chris Bunten hailed a 'good job well done' as Newcastle snapped a four-game losing streak to win the second of this season's North East derbies in style.
Despite a strong start and a late rally, Durham Palatinates had no answer to a dynamic display from the energetic Eagles.
And Bunten believes a vital victory can be the catalyst for a much-needed winning run ahead of next weekend's homecourt clash against Cardiff.
"Above all I was looking for an improved performance this weekend and that's what I got," said Newcastle's playcaller.
"I was pleased with a number of individuals but from a whole group perspective the energy was better and the players stuck to the gameplan.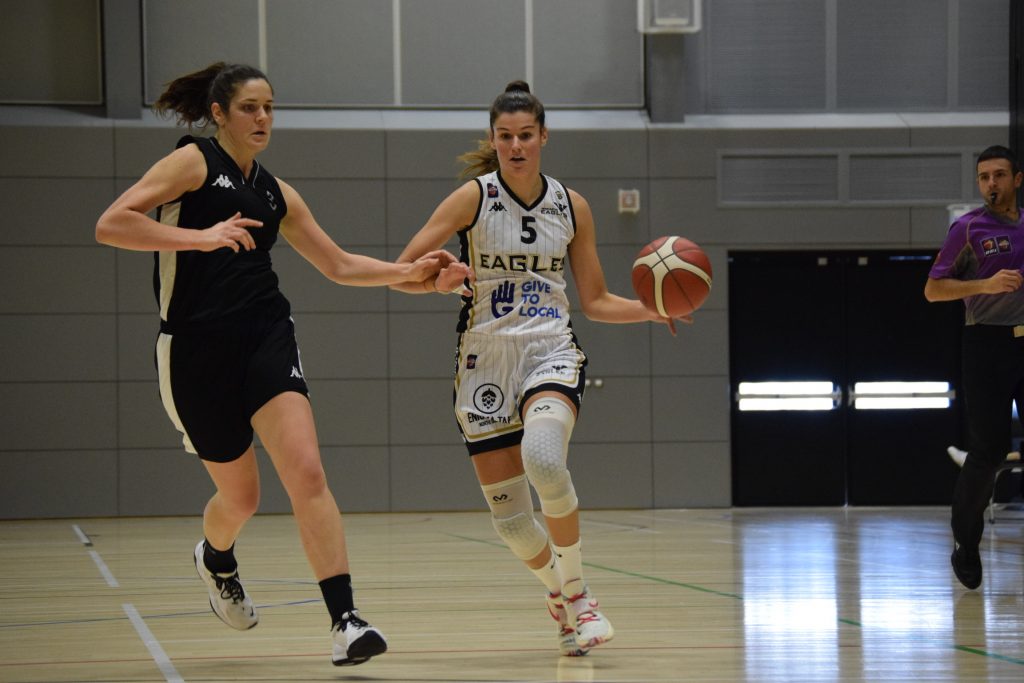 "I think everyone was just sick of losing and we wanted this win so much.
"Everyone who came into the game was able to do good things and make an instant impact.
"And the players I pulled out stayed focused and came back stronger.
"That's all I can ask for as a coach and it gives me the confidence that this group can go on and start winning more basketball games in the future."
Jessica Eadsforth-Yates exploded from the tip as she bagged 11 first quarter points including three big triples.
And had her team-mates been equally proficient from beyond the arc then Newcastle would have taken a clear lead into the second period.
Crisp ball movement and better spacing created chance after chance for the on-point visitors.
But Eadsforth-Yates aside, the Eagles missed far too many open looks and Newcastle trailed 20-16 following a free-flowing first quarter.
A 5-0 run to start the second saw Bunten's side take a deserved lead and the introduction of Rachael Bland put pressure on the Palatinates at both ends of the court.
The lively Wearsider hauled down five rebounds in five minutes as the Eagles began to pull clear in the battle of the boards.
And it was the feisty combination of Bland and skipper Marina Fernandez that established a firm platform for the women in black.
In just nine second half minutes Newcastle's Spanish captain claimed four points, six rebounds, a steal and an assist.
But it was the sight of Abby Lowe hitting six points in quick succession that will have provided Bunten with genuine cause for optimism.
The Eagles' GB 3×3 international has struggled to rediscover last season's sensational form in a Newcastle team previously short on confidence and consistency.
And the sooner Lowe, who finished with 14 points and three steals in just 16 minutes, is back firing on all cylinders the sooner last season's playoff finalists will realise their full potential.
The visitors took a 34-26 lead into the locker room following a dominant second period display — restricting the hosts to just six points — but Bunten's side wasn't finished yet.
A 7-0 burst to start the third quarter opened up a 15-point lead before Eadsforth-Yates, Lowe and Ebony Horton lit up Maiden Castle to force Durham coach Lee Davie into a hasty time-out.
There was simply no stopping the resurgent Eagles as four players racked up double figures and Palatinates continued to struggle under the glass.
Newcastle led 62-40 heading into the final period and, although Durham did test the resolve of their derby rivals with a brave 15-2 burst to open the fourth quarter, the Eagles held firm for a first league win.
And with Championship points finally on the board, Bunten will be hoping his new-look roster has turned the corner following a frustrating start to the season.