| | | | | | | |
| --- | --- | --- | --- | --- | --- | --- |
| Gladiators | 22 | 9 | 18 | 8 | 57 | Win |
| Newcastle Eagles Women | 13 | 16 | 17 | 10 | 56 | Loss |
Newcastle Eagles' injury curse struck again as the nervy visitors lost a second league game on the bounce.
Caledonia Pride avenged last month's 84-50 drubbing by Chris Bunten's side on the back of big double doubles from Maud Ranger and Sian Phillips.
But Newcastle might have mustered a stronger finish had both Ebony Horton and Jessica Eadsforth-Yates not limped out of the action late on.
Both players were carried from The Crags Centre court by anxious team-mates to join skipper Marina Fernandez and import Courtney Clasen on the sidelines.
And Bunten is facing a familiar and frustrating sense of déjà vu just 12 months after a spate of early-season injuries contributed to the slowest start in franchise history.
One positive was the sight of Abby Lowe on the Eagles bench prior to tip off after the GB Under 23 3×3 star turned her ankle just seven days earlier.
But last season's breakout star was nowhere near her explosive best as Newcastle slipped to 0-2 in the WBBL Championship.
And Saturday's trip to league champions Sevenoaks Suns is looming large for a roster lacking confidence and losing bodies fast.
That the Eagles shot a paltry 26 per cent from the floor hardly helped their cause against a pumped-up Pride.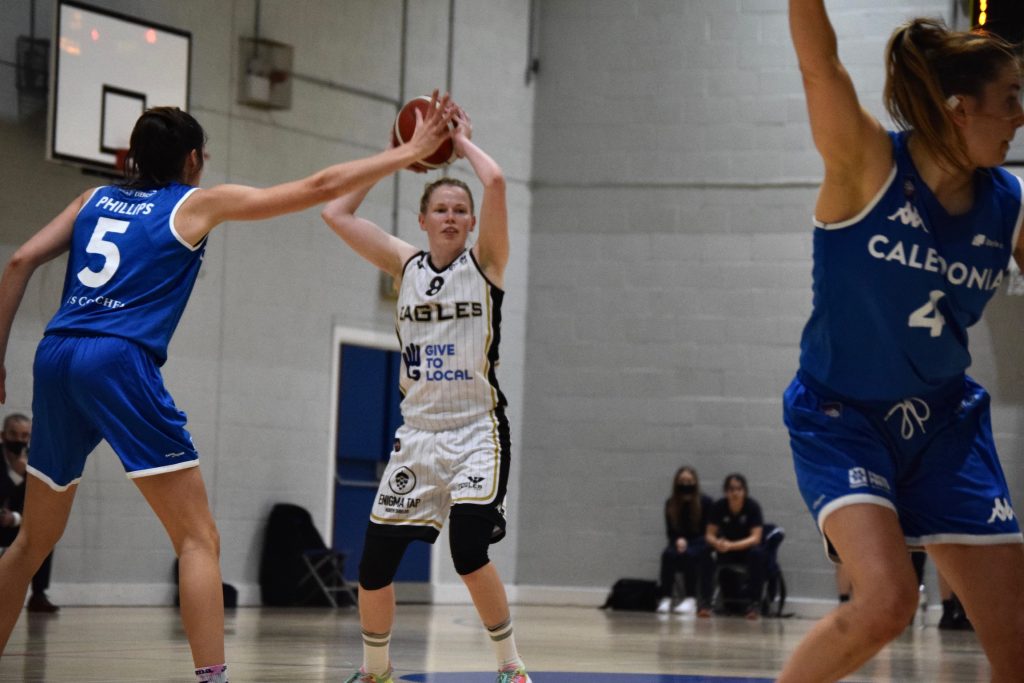 Bunten's players had 78 field goal attempts compared to Caledonia's 64 and still failed to overhaul Bart Sengers' side down the stretch.
Ten missed free throws also let the Scots off the hook but Newcastle's profligacy from the bonus stripe was offset by Pride missing 11 free throws of their own.
And although the visitors were clearly frustrated by a series of hotly contested calls after the break, this defeat was more down to Eagles' mistakes than any refereeing lapses.
A topsy-turvy first half was a story of big runs and brave recoveries as both teams enjoyed lengthy spells on top.
It was the hosts who settled down the quicker of the two sides and an 11-0 tear established a 19-4 lead for the Scots.
For the second week running Newcastle were inexplicably slow out of the blocks as they failed to protect the paint and looked laboured in transition.
But Bunten's side finally settled into their rhythm and a 14-0 burst either side of the first quarter break took the Eagles to within a point of their cross-border rivals.
Not for the first time this season talismanic guard Horton, who amassed 18 points prior to her premature exit, was the difference for the women in black.
And it was the former Manchester star's six unanswered points at the start of the second period that hauled her team back into contention.
Maddy McVicar finally burst into life with the three-point play that levelled the scores at 24-24 but Newcastle had to wait a little longer for their first lead of the afternoon.
With the Eagles stepping up their intensity and Bunten's regular rotations kicking in, Caledonia suddenly found themselves under sustained pressure.
But Sengers' side responded in style with a 9-0 run sealed by MVP Ranger's coolly taken two.
Newcastle came again to finish the half on top — Eadsforth-Yates nailing the second of two first-half three-pointers to reduce the deficit to two at the break.
But Bunten's side could and should have done better in possession after forcing 14 turnovers in the opening 20 minutes.
And the Eagles would ultimately pay for missing too many baskets when it mattered most.
A McVicar triple saw the visitors lead for the first time but any joy was short-lived as Pride edged ahead 49-46 with 10 minutes on the clock.
Newcastle restricted Caledonia to just eight points during a disjoined fourth quarter but the damage had already been done.
And Pride clung on for the win with Horton and Eadsforth-Yates looking on helplessly from the sidelines.