| | | | | | | |
| --- | --- | --- | --- | --- | --- | --- |
| Bristol Flyers | 17 | 21 | 16 | 27 | 81 | Win |
| Eagles | 27 | 11 | 19 | 18 | 75 | Loss |
Another game where The Eagles competed well for almost the whole forty minutes and were right there and could have taken a win only to fail to close out the victory down the stretch.
It means they travel to Plymouth City Patriots for a must-win game against one of the teams they are targeting to replace in the end-of-season play-off race. Whether Newcastle can recover quickly for that game is the important and key issue after a close defeat.
The Patriots will go into that crucial match-up with a contrasting outlook having come from behind to take a road win at Surrey Scorchers in overtime and stretching the gap between them and Newcastle.
In many ways, the game in Bristol was a free hit for Marc Steutel and his charges although they probably didn't see it like that. Bristol do sit second in the BBL Table and have only lost twice all season on their home court so it was always going to be a tough ask.
Plus the Flyers had defeated the Eagles 86 – 76 just last month in the same building where they tend to be very comfortable and always seem confident in front of a fanatical full house.
Newcastle on the other hand have only won once on the road in the League this season and that was at bottom-club Surrey by a mere two points. The Eagles have though defeated Patriots on their home court in The BBL Cup this season.
In recent weeks Newcastle's starting five have often got the game off to a solid start and despite a long road trip and not long off the bus they certainly looked fresh as the game started.
Hasahn French was dominant at both ends with Kyle Johnson and Justin Gordon prominent early as Eagles made a very fast start. Bristol were struggling to come to terms with Newcastle's ball movement and fine finishing established an early lead.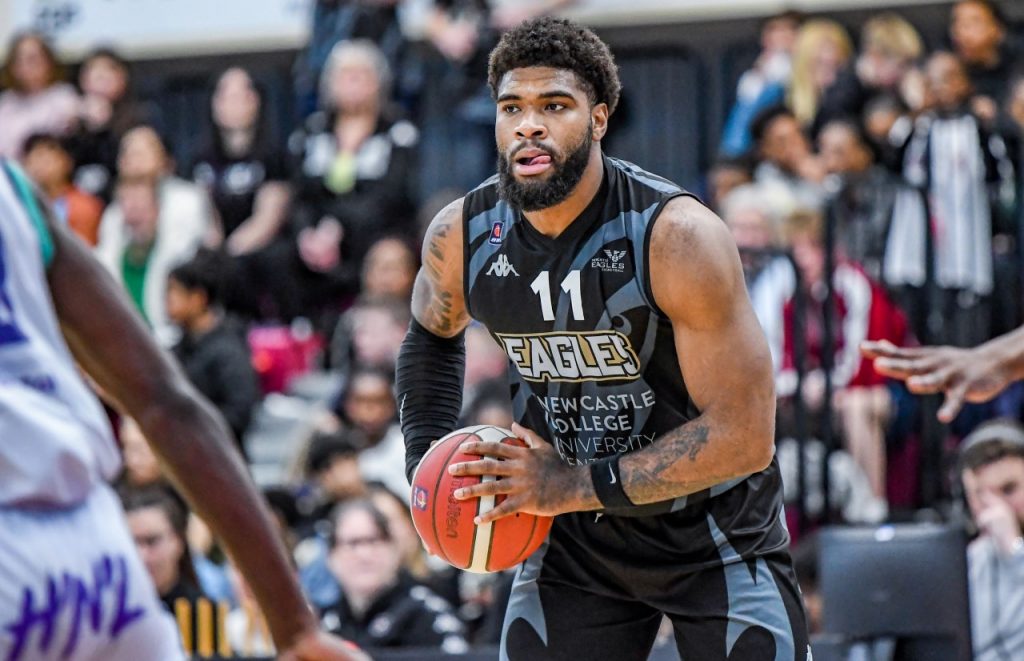 A lead the Eagles kept building. Twice getting the gap to 14-points and eventually taking an excellent quarter for them by 27 – 17 although there were signs of Bristol rallying towards the end of the first ten minutes particularly when GB call-up Jelani Watson-Gayle was on court.
The second period confirmed that Flyers rally as they slowed Newcastle's scoring down and gradually chipped away at the lead. The home side never led in the first half but had a chance to go in front as time expired. Watson-Gayle only making one of two free-throws to tie the game at 38 points each going into the locker rooms.
A 21 – 11 effort from Bristol that had seen Newcastle's early good work wiped out but the Eagles rallied in the third. In truth it was an error strewn period for both sides with turnovers at both ends that neither side too full advantage of.
Eagles were though battling hard and after the second period showed much better resolve and character taking the third 19 – 16 to go into the final period leading by three points.
Down the stretch they just about kept their noses in front. With 4 minutes 58 seconds to go they still led by a solitary point at 65 – 64. That's when Bristol made the decisive run. They shut Newcastle almost completely down and made an 8 – 1 run that saw them up 72 – 66 inside the last two minutes.
They then held off a late Newcastle comeback well controlling the clock and tempo of the game to close out a win that kept them flying high in the table and condemned Newcastle to yet another road defeat.
Statistics don't always tell the full story but three big factors in Bristol's favour in an otherwise tight set of figures counted. Flyers shot the ball overall slightly better. They scored 23 points to 7 off turnovers and their bench outscored Newcastle's 23 to 9.
So, the Eagles have to lick their wounds and re-group as they stay down in the South West for Sunday's encounter against Plymouth which they can really not afford to lose.