Is tonight's BBL Championship clash between Esh Group Eagles Newcastle and Leicester Riders at Northumbria University Sport Central one that the home side can't afford to lose? Yes, if The Eagles Captain Darius Defoe is to be believed, writes Jeff King.
Defoe started his preview of the crucial match-up by reflecting at the way his side have bounced back from the previous two-point loss against Riders with two great road wins which have increased confidence in the camp.
"We've come back well, and we look in good form but at the end of the day we're not going to get carried away and we're going to take it one game at a time."
"It was a good performance at Sheffield and another good one at Bristol but at the same time we're just concentrating on ourselves and we're looking forward to this game tonight."
As Head Coach Fab Flournoy's longest-term ally in the Eagles set-up, Captain Defoe echoed his coach's own words from earlier in the week when Flournoy talked about creating a rhythm for the full 40 minutes.
"We can't take any time off in any game especially tonight's. It's going to be a tough game and we just can't take any time off. We've got to be on our A game from the start and just keep going and keep playing hard."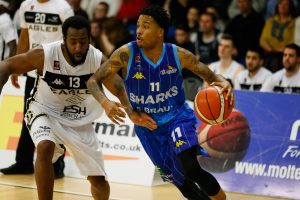 Playing hard is certainly one thing that Defoe brings in abundance to the Eagles cause and in those two recent wins he's been in fine form. 17 points and 9 rebounds against Sheffield were followed up by 14 points and 11 rebounds against Bristol for the veteran forward.
"I'm just going to keep doing what I'm doing I hope. The guys give me the ball where I need get the ball to score and at the same time I try my best on the rebounding side. But at the end of the day it's not just about me, it's about a team performance to get the win."
"It is good putting good numbers up. The only thing I can do is take it a game at a time and keep doing what I'm doing and keep helping the guys and make sure we're in the best position to win the game."
Defoe's assessment of the importance of tonight's game is something he's hoping can help to inspire his team-mates to a win that would mean an awful lot as the season progresses.
"It is a big game for us, it's a must win game. We have to win this game and then make sure we win at their place next month, so we can get the head-to-head over them. The team is very confident, we just have to keep working hard and keep working for each other."
Tip-off as usual at "The Eagles Nest" is at 7:30pm for a game that will have the eyes of the British Basketball League and its followers well and truly focused on.
Tickets are still available to purchase online and can be booked at a special discount if you sign-up to our email newsletter below: