Chloe Gaynor is relishing a role demanding greater responsibility as Newcastle Eagles WBBL face the future without their GB stars.
The in-form forward has established herself as a key member of Chris Bunten's starting five following a much-heralded summer switch to Tyneside.
And Gaynor has emerged as an increasingly influential on-court leader — setting the defensive standard at Manchester last weekend as Newcastle went into battle without the departed Ebony Horton and Abby Lowe.
The Eagles face Lowe and her Durham Palatinates team-mates at the Vertu Motors Arena in tonight's WBBL Trophy tie.
And Gaynor said: "I'm revelling in the added responsibility. It's bringing out the best in me.
"Traditionally it's not a role I've been used to filling but I signed for Newcastle knowing I'd be expected to deliver week in, week out.
"It's a new experience for me and it's something I enjoy. I have to go out and perform to the best of my ability every night, without fail.
"It's added pressure and knowing that I have to produce every time I step out on court can be challenging.
"I think I've risen to that challenge and it's brought out a better side to my game.
"When Ebony and Abby moved on I think we realised, as a group, that we would need to take added responsibility across the board.
"We're suddenly down two key players and everyone needs to step up and start producing more."
Gaynor and Lowe have been close friends for nine years and the former team-mates are also room-mates on Tyneside.
Tonight's head-to-head between Newcastle and Durham throws up a fascinating personal duel as the two derby rivals lock horns for the third time this season.
The Eagles lead the season series 2-0 but the Lowe-inspired Palatinates destroyed Nottingham last weekend on the back of a career-high 38 points from the former woman in black.
"Was I surprised that Abby did that on debut," added Gaynor. "Not at all.
"When she's in the right mindset and fully focused she can do it all and we're fully aware of that.
"There's never been any question about her ability and when I saw what she'd done last weekend it felt like there was a real 'wow' factor.
"Abby had a point to prove and I'm sure she'll approach this weekend's return to the VMA with the same attitude.
"She loves Newcastle Eagles, our fans and the community but she'll put all of that to the back of her mind.
"I've always loved playing against — and alongside — Abby and it will be no different this weekend.
"We're still living in the same flat so of course there's been some banter this week. But we're both very serious about winning when it comes to tip-off."
Newcastle, of course, have one eye on this month's WBBL Cup final in Birmingham against big-spending London Lions live on Sky Sports.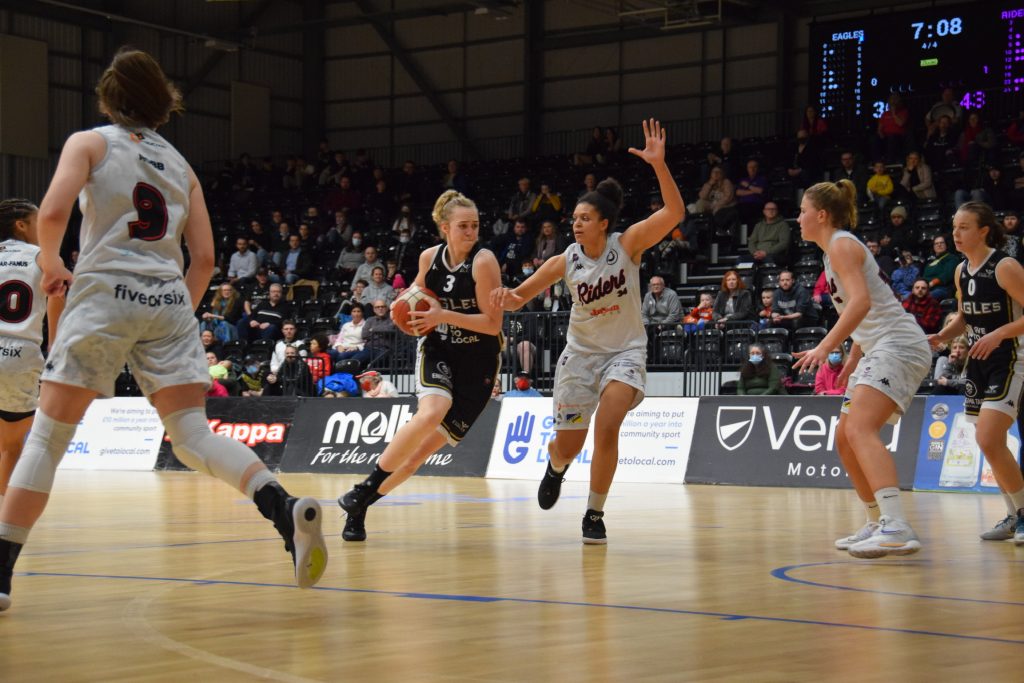 But Gaynor revealed the Eagles' intention is to go deep in the Trophy too…and build vital momentum before the end-of-season playoffs.
"We want to win everything that there is to win," she added. "We have one final coming up and it would great to reach another.
"I still don't think we've hit our stride and the more positive results we can put together the better.
"Losing two key players hasn't been easy and we've been forced to deal with a lot of disruption since we returned from the Christmas break.
"It was a great feeling to put that behind us and get the win at fourth-placed Manchester last weekend.
"We proved that if we stick together we can still get the job done."
Tickets are still available on the box office for tonight's WBBL Trophy tie which tips off at the new time of 7.30pm
Fans can still also grab tickets on the box office to follow the WBBL team away to the Cup Final on Sunday 30 January.