The Newcastle Eagles WBBL side return to the scene of their best result so far this season with the long trip to Essex Rebels for tonight's crucial WBBL clash.
Just one week ago the Eagles flew into the Rebels backyard and came away with a nail-biting 68 – 67 WBBL Trophy quarter-final victory to advance to the semi-finals. This though is a Championship clash and perhaps just as important.
The Eagles sit in sixth position in the table on 6 wins and 6 losses. Essex are the team immediately below them on 5 wins and 7 losses.
Newcastle got to that sixth placing after following up the win at Essex 24 hours later with a WBBL Championship win at Nottingham on the way home by 67 – 47. A weekend that Captain Marina Fernandez was rightly delighted with.
"I was very proud of the team last weekend. It was along and challenging one on the road with a doubleheader against two very competitive teams. I thought the team approached the challenge with the right mindset of focusing on one game at a time and that paid off."
Paid off it most certainly did as The Eagles continued their recent improvement that has seen the majority of the WBBL looking over the shoulders at the emerging force. Fernandez feels she knows the reasons for the turnaround in their fortunes.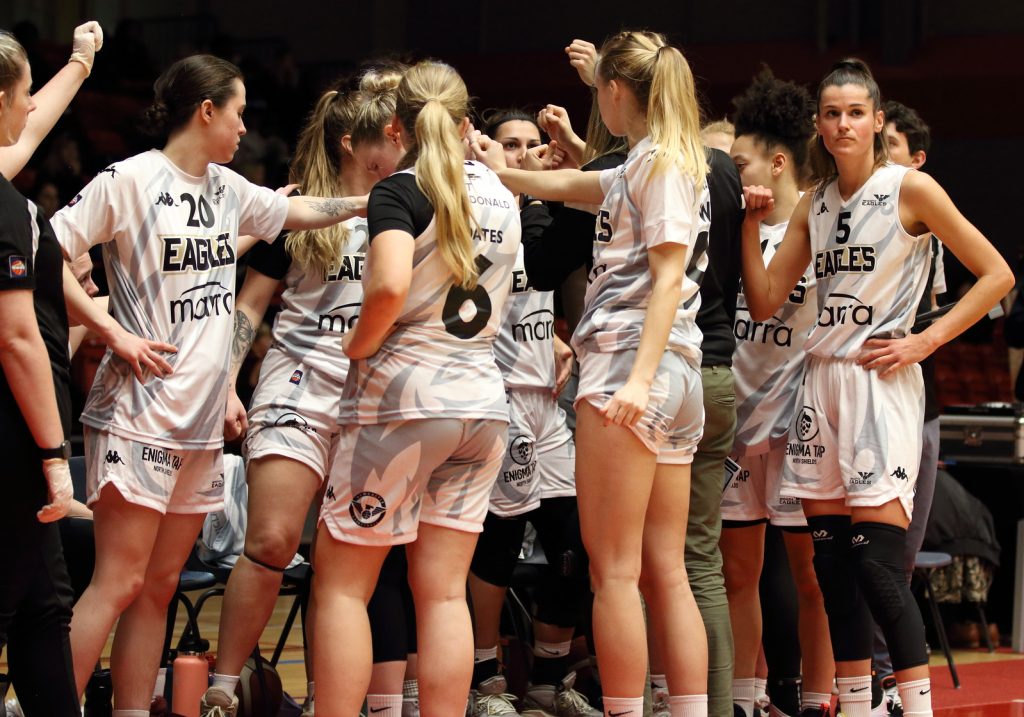 "The main factors are time and roster depth. We have had many additions throughout the season and it always takes time for players to get to know each other on the court. Chemistry and togetherness isn't built overnight."
"It took us some time to actually get on the same page and learn how we all operate as individuals on the court."
"Now with most of our roster available we are showing some depth meaning we can have a deeper rotation and playing time can be distributed differently. We've got more bodies fresh on court and load management looks different."
What also comes through very strongly with this Eagles line-up and Fernandez has already mentioned it, is the togetherness the players are showing on and off court.
"We're hungry and ready to compete against anyone. Our confidence as a group has increased over the last few weeks and now we know that, if we follow the game plan and stay disciplined we are a tough match-up."
"We are not yet satisfied and we want to keep the momentum rolling in the right direction. The group is happy about the wins but we all know we can polish some details and be even better."
So, how does Fernandez feel last week's titanic clash will affect today's game?
"Last week was a game of momentum. We had a very good first have and then the momentum shifted and they came back in the second. We expect Essex to be ready with a different game plan to try and get a win this weekend."
"We cannot allow them to get into their rhythm and need to be consistent at disrupting their main offensive threats. We are confident in our preparation and expect to show a more consistent version of our group throughout the 40 minutes."
There's no doubting that a win today after another long, long road trip would keep the momentum going and give the Eagles a real flight of fancy for the rest of the season.
"Our aims for the rest of the season is to keep defining our identity as a team. We've shown glimpses of what we can be but we are still working together to be more consistent."
"We are taking every training session and game as an opportunity to improve an be stronger as a unit. If we continue to put the work in we know everything else will take care of itself."
The game tips off at 16:00 pm and can be seen by accessing the link to the Essex Rebels YouTube channel.