Esh Group Eagles Newcastle go in to tonight's crucial BBL Championship match-up against Worcester Wolves looking for a fifth straight league win and to maintain their 100% record, writes Jeff King.
They do so in the words of influential Point Guard Saah Nimley, "battle hardened" after last week's thrilling and tough win over London Lions where his side came back from an eleven-point deficit to maintain their own unbeaten start whilst ending Lions own at the same time.
"It was tough, you could tell what their game plan was, to get the ball out of my hands and to get the ball out of Jay's (Jaysean Paige) hands. They did a lot of hard trapping and did a good job on me but I'm still glad we got the win."
Nimley and Paige had certainly been the highlight reel in the first three Eagles' wins of the season but they both had to find a way to alter their and their colleagues games to turn that deficit around in that final quarter against London.
"Darius (Defoe) came through in a big way for us. He made shots that he's very capable of making and makes regularly, he just had more opportunities to do so as we just had to get the ball to him and take advantage of him being ready and he really took us to that win."
"I think Jay and I just had to facilitate what was working for us and I think we did that well getting the ball where we needed it and Darius and the other forwards came through for us."
It was probably the fact that Nimley and Paige didn't light it up and yet The Eagles still came through their toughest test with a win that was one of the most striking features that stood out.
"I think everyone watching that now knows that we're not a two-guy offence. We've got guys that can score in all different spots. It's just that sometimes Jay and I have really got it going and that's just what it is and other times the other guys will be called upon and we're confident they can step up just like they did last Friday."
"It was special last week"
One of the things Nimley is really looking forward to tonight is to once again play in front of a home crowd that has really raised the roof in the last two home games and played a huge part in helping them through to big wins.
"It was special last week and I'm sure it will be again tonight. I really enjoy how much our fans are in to it and I'm sure they'll be right there against Worcester tonight. We know we're going up against a talented team, an athletic team and we've got to be ready to play."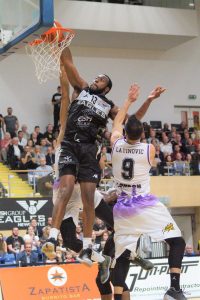 "They haven't had a great start but they look dangerous and I'm sure after being really battle tested last week we know there's no playing around and you have to earn your wins. So, I think we'll come out behind our home crowd tonight and get another W."
If The Eagles do go to 5 – 0 it would be a nice mark to be sitting at as they go in to a mini-break with two weeks before the next game, a BBL Cup Quarter-Final against Cheshire. Nimley assessed that possibility.
"I'd be happy to have a break. It's been pretty full on since we got here so it'd be nice to sit back and focus on ourselves for a little bit, get a little bit of time to recover and then come back with the same mindset to hopefully get another run going. But, we can't take it for granted and we need to get that W first tonight."