Esh Group Eagles Newcastle's rookie AJ Basi may be new to the professional ranks and The BBL Championship but he's in no doubt about how tough tonight's game at Northumbria University Sport Central against London Lions is, writes Jeff King.
The 5' 11" Canadian point guard who has just come out of Canadian college system after five years at Manitoba University but is already aware of his surroundings in a new environment as he previewed the clash with the Lions.
"It's a huge game. It's still very early in the season but already this is a big game to face. We've had this one on our calendar ever since the O2 All-Stars tournament in London and with both teams also being unbeaten so far in the league it has a real feel of importance about it."
"Practice has gone well, we've just tweaked some things that we needed to look at after the last two games, clean up our offence a little bit. I like the way our defence came along in the last win after the first couple of games. We need to build on that and we've started watching film on London."
So, preparations moving in the right direction and Head Coach Fab Flournoy obviously has his players keyed-n for tonight's titanic tussle. Basi outlined what he thought the game keys would be.
"I think we have to make them play at our pace. They're one of the slower teams in the league. They like to play in the half-court and they have a very good point guard who wants to orchestrate and run the show so we have to take them out of what their comfort zone is."
"After three games they look like they want to slow things down whereas we want to continue our up-tempo game and keep getting up and down forcing the pace."
Basi came almost as an unknown to Newcastle and is already seeing the difference between university and professional life.
"It's a big change. It's still basketball but there's a lot of learning and a lot of adjusting on the fly. I'm taking in different things every single day and I'm just trying to keep a healthy balance between learning and adapting but still trying to play my game."
"There's an incredible amount of talent around me, definitely the most I've ever been involved with. I'm just taking that opportunity to get better every day in practice and then hopefully putting that out there on the court."
As well as the playing differences there's the cultural differences and lifestyle that he also must adjust too.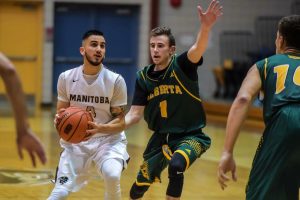 "Manitoba is a little bit of a quieter smaller community than Newcastle that's for sure. The dynamics are a little bit different when you start playing professionally with people coming in from all over the world."
"But, you start to see that same tight-knit type of community when it comes to games at home and you see that fans support. It almost feels like you're back home playing in front of your family the noise and feeling they generate."
A nice point to finish on as it may well be that support and home advantage that tips a vital game so early in the season The Eagles way and that's what Basi and his team-mates will be hoping for as they tip-off tonight at 7:30pm.