Newcastle Eagles won't stop growing until the end of the season as the WBBL's rising force set their sights on double silverware down the stretch.
That's the confident claim of head coach Noelia Cacheiro ahead of tonight's [Saturday] winner-takes-all WBBL Trophy semi-final against league leaders Leicester Riders.
The women in black have won eight of their last 11 games to emerge as the form team of 2023.
And the Riders head to the Vertu Motors Arena still reeling from last weekend's final quarter capitulation in front of a record crowd in Essex.
"This Newcastle team has been growing all season and making a semi-final reflects that growth," said Cacheiro.
"We haven't finished growing either. I have a feeling that this team will continue to grow until the last game they play together this season.
"There's a mentality within the group that there's still so much to play for between now and May and of course there is. 
"Credit to the girls — they've put themselves in a position where they can make a final and the playoffs. 
"I don't think anyone had this Newcastle team mid-table at the start of the season but it's down to all of those hours spent on the practice court working hard and working together."
Cacheiro has transformed Newcastle's fortunes within 12 months — nurturing a team built on togetherness following a flurry of high-profile exits this time last year.
Leicester's in-form guard Jessica Eadsforth-Yates is just one of the players who turned her back on the Eagles towards the end of a disrupted 2021/22 campaign.
And Cacheiro recognises the change in mindset at the heart of a united roster unrecognisable from last season.
"Where we are now compared to where we were this time last year is a world apart," she agreed. "This year we've grown whereas last year we diminished.
"Last year people were dropping off the roster whereas 12 months down the line people want to join the Eagles and to be a part of what we're doing here.
"That's because this team is doing great things together and, from the outside looking in, it looks like a good place to be.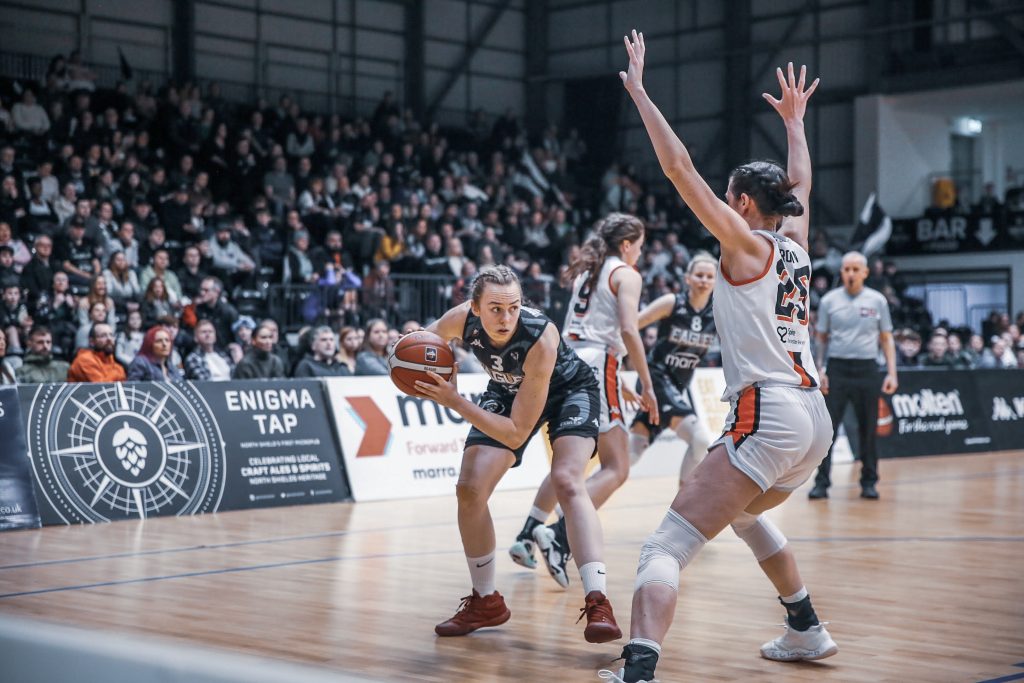 "I hear what other players are saying about Newcastle this season. I don't think anyone really looks forward to paying the Eagles now. 
"In the past it was taken for granted that a game against Newcastle was an easy game. Teams expected to beat us. That's no longer the case.
"It proves that we have to take care of the human before the athlete — that approach takes time but it's created an understanding and a trust within this group. 
"It's gone a long way towards taking us to the point we're at now."
Where Newcastle are is 40 minutes away from the most unlikely of final appearances but they face a Leicester team licking its wounds after last weekend's humbling loss at the hands of a battling Rebels.
"We've proved that we can play for 40 minutes and stay in games until the final buzzer," added Cacheiro.
"We know how to put ourselves in winning positions and how to close out close games. 
"Let's face it — Leicester crumbled when they were challenged down the stretch so if we're still in the game in the final quarter then it's anyone's semi-final.
"It will be interesting to see how the Riders respond to that loss. 
"I think it was Rebels' fans — and a record crowd — that carried Essex over the line last weekend. 
"Leicester definitely wobbled in the face of the home support's energy. I'm hoping our fans can give us the same energy.
"Just like they did at the Caledonia game — our fans can help us take the win."
Tonight's semi-final tips off at 7.30pm with tickets available via boxoffice.newcastle-eagles.com