It came as no surprise when this week the October BBL Player of the Month was announced and the recipient was none other than Esh Group Eagles Newcastle's very own Jaysean Paige, writes Jeff King.
Paige has had a stunning start to his basketball life in England with Newcastle and in The BBL. Currently averaging 26.6 points, 3.4 rebounds, 6 assists and 2.6 steals per game he's averaging a 59% field goal percentage including a staggering 52% from three-point range.
In his last outing he almost single-handily brought his team back from 19 points down against Worcester netting 37 points as The Eagles turned the game around and took their fifth consecutive win and maintained their 100% record.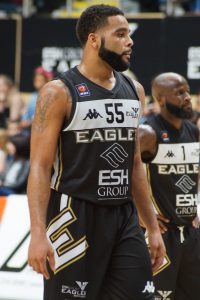 "It's a great start for me in England but it's been a great start for the team too and I've just played my part and now I just want to keep pushing and keep getting better. I knew I'd worked hard all summer, so I was ready for the season, so I'm not surprised I've settled so early."
"I ain't going to say I expected this award to come but this is what I work for and like I say now I've just got to keep pushing and keep doing my job for the rest of the season."
What's possibly a bit scary for The BBL is that Paige still thinks he has more to give and can get better too.
"I've still got more to come I believe, you have to believe that. As an individual you don't get complacent and I want to get everything I can. If I can get player of the month every month I want to get it."
"But at the same time, we're 5 – 0 as a team and I want to keep winning. As long as I can help us to keep winning and I can keep playing well I'll have no complaints."
So, to tonight's game against Cheshire Phoenix in The BBL Cup Quarter-Final.
"We have a game tonight that's another big game. When you play for The Eagles every game seems like a big one and that's a great feeling. It's our first silverware game so we want to bring that of course and it's one of four."
"Hopefully this is the start of something good. If we can bring that first one home, then we can move on to the next one. I know we hold this trophy but that's not the issue. Every game is a special one and everyone is important."
"As long as you're out there healthy and you're out there being able to perform that's the main thing that matters. We just want to go out there and get another win. It doesn't matter if it's a cup game or a regular season game we just want to go out there and win."
"The guys and me are just looking forward to getting back on court. Practising and being up on each other for two weeks without a game is not a lot of fun. You practise to play and we're ready to take that two weeks out on someone else."
Tip-Off for tonight's game at Northumbria University is at the usual time of 7:30 pm with the prize for the winner's a place in The BBL Cup Semi-Finals and being one step away from the first showpiece event of the season which takes place at The Barclaycard Arena, Birmingham this coming January.
SaveSave