| Date | Time | League | Season |
| --- | --- | --- | --- |
| April 23, 2023 | 3:00 pm | Men's Championship | 2022-23 |
It's win or go home for Newcastle Eagles this afternoon as the men in black head to Plymouth City Patriots seeking to secure post-season basketball against all the odds.
The struggling Tynesiders have been staring up at the top eight all season after winning just 10 of their 35 BBL Championship games.
But a nine-point victory at the Patriots would complete mission impossible for Marc Steutel's men and see Newcastle sensationally leapfrog Plymouth to claim the final playoff position.
That dramatic scenario was made possible by back-to-back wins against Caledonia Gladiators inside six season-defining days.
And Steutel revealed a combination of his players' unrelenting work ethic and the unequivocal support of the BBL's best fans is driving the Eagles to dream big this weekend.
"The professionalism within the group has never been in doubt," he insisted.
"There's never been a question about their approach, work ethic or application throughout the week. 
"I just think at times our execution and management come game time has obviously not been as consistent as we would have liked.
"What's driving us right now is that everybody within the group has put a lot of work into the season and we want to finish it the right way.
"But the fans are also a key factor. The incredible support we've had this year has blown us away.
"Even on Thursday to see the travelling fans up in Glasgow — as we faced a team that had only lost two games at home all season — was incredible.
"Our own desire and the desire of our fans to see basketball in the post-season is what's keeping us going and keeping our motivation levels exceptionally high."
If Newcastle have somehow secured a burst of late-season momentum from an invaluable match-up against the Gladiators then the Patriots have been in freefall for some time.
And the Eagles know it's now or never against an opponent under significant pressure in front of an expectant homecourt crowd.
"Defensive application will be key this weekend and we need to make sure that we set the tone from the jump," added Steutel.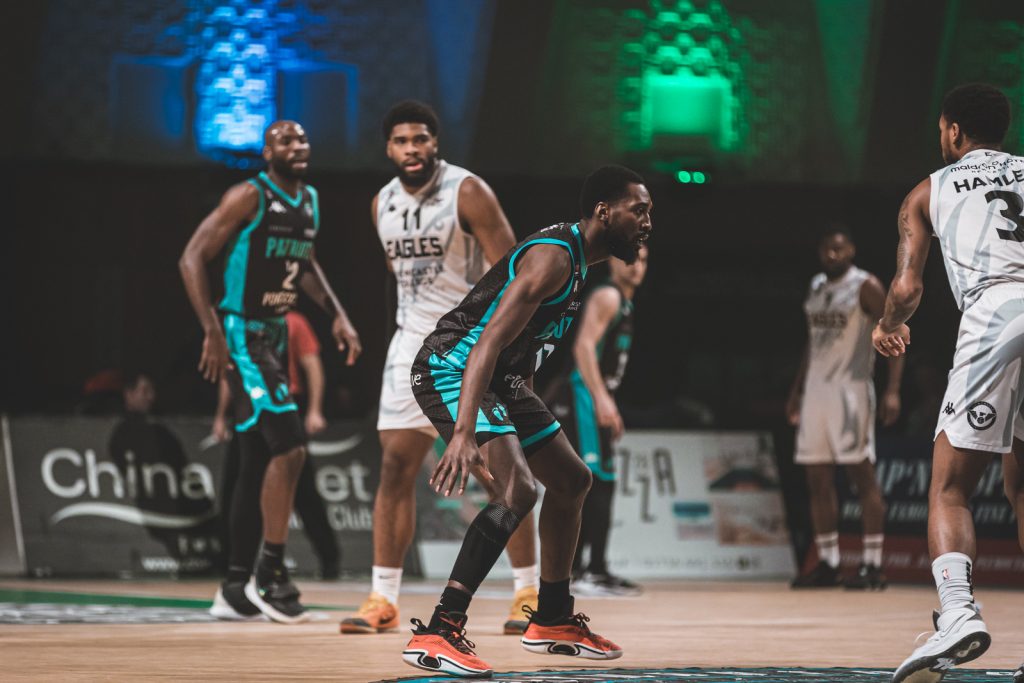 "We need the right game management to make sure that we're executing the right way for 40 minutes. 
"In the situation where you have a specific points target in mind it's not about making home run plays and getting to that target straight away. 
"It's about playing consistent basketball over 40 minutes and getting those incremental improvements quarter by quarter so that come the end of the game we have the winning margin we need.
"We will break the game down into five-minute sections and 10-minute quarters. It's about winning each part of the game and getting to where we need to be.
"We need to focus on playing the right basketball for the first 20 minutes and then make sure that our management of the game and the clock is better than it has been this season."
A Newcastle win by any margin will lock this season's league series at 2-2 and tie the two teams' overall Championship records at 11-25.
But anything greater than an eight-point Eagles victory will secure the head-to-head for Steutel's men and guarantee eighth spot.
The visitors will do everything in their power to avoid history repeating itself after facing the same final day scenario at Plymouth 12 months ago.
And Steutel, who hopes to have league-leading scorer Javion Hamlet back on the bench, added: "We have to control what we can and that's trying to put in the right performance on Sunday and making sure that we achieve the goal of making the playoffs.
"Anything else beyond that will be for another day. I've been very open and honest about the challenges we've faced this season and the position we're in simply isn't good enough for this club.
"There's a lot of responsibility on my shoulders and I accept that and I own that.
"But right now it's about controlling what we can and that's about getting the right performance and the right outcome from Sunday so that we can play basketball in the post-season."
This afternoon's 'play-in' clash tips off at 3pm with the action screened live at the Vertu Motors Arena and via the BBL's official YouTube channel.