Focused defence, maximum effort and the man for the big occasion can propel Newcastle Eagles into the BBL playoffs at Plymouth City Patriots this afternoon.
That's the verdict of Sky Sports pundit Drew Lasker as two of the biggest names in British basketball fight it out for the final invite to the post-season party.
The popular face of this season's live BBL coverage has a foot in both camps after starting his celebrated hoops career with Plymouth before cementing his reputation on Tyneside.
And the co-host of podcast The BBL Show revealed his blueprint for Newcastle success after the Eagles beat Glasgow Rocks on Friday night to set up today's top eight shoot-out.
"If Newcastle can repeat the energy and effort they showed last time out then they have a great opportunity to stamp their playoff ticket," said Lasker.
"The biggest thing for me is that there were five guys playing defence against Glasgow and that made all the difference.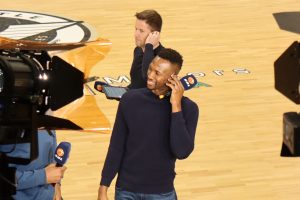 "The Eagles locked in on the scouting report and got their hands on the ball. That's something we haven't seen at times this season.
"There hasn't always been that attention to detail or a determination to follow the scouting report, but that's what Newcastle will need at Plymouth. And of course they need Rahmon Fletcher.
"He's the man for the big occasion and he told me he'll be treating the Patriots game like a cup final."
Fletcher needs to dish up another nine scoring passes this afternoon to overtake Alton Byrd (7.82apg) and claim the all-time BBL career average for assists.
And had Newcastle's skipper not slipped into early foul trouble on Friday then he would surely have topped his Eagles-high 10 assists against Glasgow.
Just two dishes against the Patriots will see Fletcher set an all-time single season assists per game record — beating Byrd's logstanding 10.16 benchmark.
And former team-mate Lasker added: "It's remarkable when you think that Fletch has probably missed more games this season than at any time in his career.
"Even in the last week he played restricted minutes against Surrey and sat out 15 minutes against the Rocks but he's still on course to grab those records!
"Newcastle are set up to be a strong offensive team but they've not had the best of seasons.
"In spite of that — and the fact that he's 33 — Rahmon's still had his most productive campaign in terms of assists.
"It's a testament to his durability over the years and his desire to maintain those high standards.
"Rahmon is the engine room of the Eagles team and I'm expecting some aggressive offence against the Patriots."
Fletcher firing on all cylinders — following his battle with Covid — will be key to Newcastle's success this afternoon (3pm tip).
But keeping Plymouth points machine Antonio Williams quiet is of equal importance according to Lasker.
"The Eagles will have to throw bodies in front of him," he added. "Conner Washington took three charges against Williams for Leicester on Friday and Newcastle's players will need to show the same level of commitment.
"He's the head of the snake where the Patriots are concerned and the Eagles need to cut off that head to seal their place in the playoffs.
"Another area where Newcastle need to be at their best is guarding Rashad Hassan but Darius Defoe knows how to slow him down.
"You look at Plymouth and everybody else feeds off those two players. If the Eagles can keep Williams and Hassan quiet then they can put one foot in the playoffs."
The last time Newcastle failed to make the post-season was in 2000 when the Eagles finished sixth in the short-lived Northern Conference.
And 1996 was the last time the men in black finished outside the top eight in the traditional one league format.
Clinching a playoff quarter-final against champions Leicester Riders would be some reward for a fan base frustrated by a lack of consistency this season.
And outgoing head coach Ian MacLeod would relish one final tussle with Rob Paternostro before the Eagles' playcaller takes up his new role this summer.