Tonight's opening BBL Championship encounter sees Esh Group Eagles Newcastle travel to fellow sponsorship stable-mates Leeds Force looking to get their league campaign off to a flying start, writes Jeff King.
This is a very different looking Eagles roster from previous seasons with only Head Coach/Player Fab Flournoy, guard Drew Lasker and forward Darius Defoe retained from last year's squad. That means no fewer than seven players will make their competitive Eagles debut tonight in The BBL.
One of those, 6' 2" shooting guard Jaysean Paige, is a former stand-out star at highly rated West Virginia University who didn't have the best of times last season coming out of the US College. Paige though has already shown in pre-season that he has the talent to be a big-time scorer in The BBL.
He's excited to get started in tonight's first league game.
"Pre-season's over but we're still working towards our goals. We've had a good pre-season and now we're ready to get this thing rolling. The O2 last Sunday was a great experience and a great atmosphere."
"It was the kind of atmosphere I'm used to playing in but now we're on to bigger things and the season's starts tonight. Wherever we're at is where we've got to go but I know I'm ready to play and the guys are too."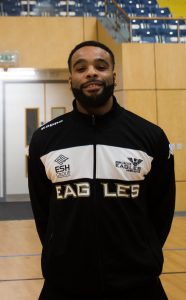 The Betway All-Stars Basketball tournament was something different for the sport in this country and whilst successful, not the sort of basketball Paige is used to playing. Tonight, will be different.
"I enjoyed last weekend but proper basketball is what we've been working on all pre-season since we've been here. Sunday was a little different and we started off slow but adjusted pretty well which I was good with and I'm sure the whole core group was happy with too."
"But, that's in the past and we don't want to come up short this weekend. We're ready to play our style of basketball and what we've been working on."
"We want to get this thing off on the right foot. Every game's important but this first one is real important. The game we have on our hands is Leeds and that's the task right now. We need to get them out of the way in the right way and then go forward from there and build on it."
Paige is certainly a young man that The Eagles fans and The BBL will enjoy watching play as the season opens. His credentials, CV and performance at the O2 certainly mark him out as a player that could bring considerable scoring power to The Eagles roster.
Newcastle meanwhile, will not only want to get off to a winning start and lay down a marker, they'll also want to avenge a surprise late defeat at Leeds from last season as the new season tips-off for 2017/18.
Our first home game of the season is next Friday:
Newcastle Eagles

119 - 104

Caledonia Gladiators

Sport Central

Men's Championship
SaveSave