| Date | Time | League | Season |
| --- | --- | --- | --- |
| December 27, 2020 | 2:00 pm | Men's Regular Season | 2020-21 |
Ian MacLeod insists a changing of the guard has put Newcastle on the offensive as the club continues to evolve as an attacking force.
Ahead of this afternoon's trip to Glasgow Rocks, the Eagles head coach paid tribute to his new-look backcourt pairing and outlined the multiple benefits of a killer combination.
Rahmon Fletcher and Cortez Edwards spell double trouble for Newcastle Eagles' BBL rivals with the league's most explosive backcourt pairing in blistering form.
And MacLeod said: "The positives are there for all to see.
"When I started recruiting in the summer I wanted to bring in another guard who could play the pick and roll.
"Fletch has been our main creative player for several seasons and he still plays that role.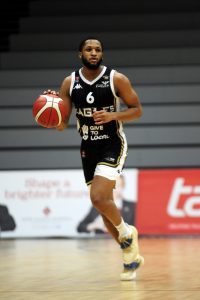 "But by bringing in Cortez we have a two-pronged attack and carry twice the threat in that area.
"It's allowed us to move in a different direction and given our offence a whole new look.
"Cortez brings so much to the team and best of all it means Fletch is off the leash – and loving it!"
Two-time MVP Fletcher is leading the league in assists with almost nine dishes per game in the championship this season.
But Edwards isn't too far behind with the former Worcester Wolves favourite fifth in the league for assists.
As a team Newcastle's generosity knows no bounds with the Eagles averaging 29 team assists in their last three matches.
And MacLeod added: "Those numbers are huge and representative of how we're trying to play the game.
"It shows that there's plenty of harmony within this team and it's fantastic to see.
"But it's very simple really. That basketball is very precious and what you see is bunch of guys keeping it between friends."
Fletcher and Edwards might have lit up the BBL as one of the league's deadliest duos.
But there were no guarantees that the master and his new apprentice would gel so soon and so effectively.
"You never know," agreed MacLeod.
"But from what I saw of Cortez last season I always thought he looked like the right fit for the team I was trying to build here.
"When he was with Worcester he was able to contribute in so many different ways and to so many phases of the game.
"He makes his mark on the game across the board and he's a very good defender.
"I knew what Cortez could do with a basketball but I've been impressed with what he does when we don't have possession.
"He's a very sensible player and at just 23 he has so much potential."
Fletcher has clearly benefitted from hooking up with his new partner in crime.
With Edwards sharing the creative load, Newcastle's veteran guard is playing some of the best basketball of his BBL career.
And MacLeod added: "It's a testament to Rahmon's professionalism and his drive that he's playing so well but in a different way.
"The way we play now is very different to the way Newcastle teams played three years ago.
"But Rahmon and guys like Draius [Defoe] and Drew [Lasker] have thrown themselves into the new approach and helped transform this team."
Newcastle head north of the border to take on a Rocks team that's lost three of its opening four league games.
Glasgow bolstered their ranks with the Christmas Eve capture of seven-footer Ronald Delph and rookie guard Christian Keeling.
But it remains to be seen whether either player boast the match fitness required to face the Eagles.
"We've planned for both scenarios," added MacLeod. "We have a game plan which factors in their new guys and a game plan that doesn't.
"Rocks haven't had the best start to the season but they'll be a team to watch in the New Year."
Newcastle were due to host Manchester Giants at the Eagles Community Arena on Tuesday but a positive Covid test in the Giants' camp means that fixture has been postponed.
Fans can catch today's clash live on the BBL Player from 2pm.