| | | |
| --- | --- | --- |
| Eagles | 110 | Win |
| Caledonia Gladiators | 77 | Loss |
Jure Gunjina returns to Benfield Centre Of Sport today [Sunday] looking to answer the burning question that stopped the charismatic Croat in his tracks. Is this Newcastle Eagles team the most talented – player for player – that the athletic forward has ever been a part of?
"You know what, it could be," mused the 6ft 8in powerhouse after new-look Newcastle carefully deconstructed – and then ruthlessly demolished – a Glasgow Rocks side under the expert tutelage of former Eagles playcaller Tony Garbelotto. "I have never been surrounded by so many guys who can do so many things and play so many positions.
"As a roster we bring a lot of stuff to the table. Even within our small group there are a number of different line-ups and a number of different ways that we can break down teams.
"But everybody came here to win. You don't sign for Newcastle if you don't think you can win all four domestic trophies.
"We're not here to pick up one or two pieces of silverware. This is the Eagles. The biggest challenge we face is winning all four but we're talented enough to do whatever we want.
"The only thing that can beat us is ourselves. Mentally, we must stay focused."
On the face of it Gunjina might appear overly optimistic given the context of this one-sided, if entertaining, pre-season affair. It was Newcastle player-coach Fabulous Flournoy who, prior to tip-off, conceded the result would mean 'everything and nothing' but if a 33-point winning margin meant very little then the evidence of a developing on-court chemistry and clear lines of communication meant almost everything. Gunjina knows a talented baller when he sees one and the Eagles boast 10 this season.
Garbelotto would agree. Privately, the veteran playcaller knew he was onto a hiding to nothing by testing his transitional line-up against the most successful franchise in British basketball history. And the canny Londoner returned to Tyneside fully expecting that he would depart again as the architect of his own downfall – it was Garbelotto, after all, who signed Flournoy for Newcastle in 2001.
The two remain close friends and it was that bond that persuaded both to agree to a potentially divisive fixture. The match was played against a backdrop of unease – for many fans the close proximity to the first league match between the two teams, on October 6, meant this was a friendly too far. Ultimately, the fixture allowed the Eagles to flex their collective muscles and the Rocks to reflect on what needs to be done between now and the big tip off.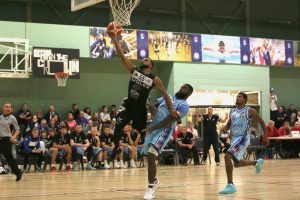 The two teams might meet again in a matter of weeks but this feisty clash never had the feel of a phony war. There was nothing fake about the Rocks' raw aggression and nothing feigned about Fabulous Flournoy's constant calls to arms.
Indeed, those expecting some kind of pre-season sham clearly didn't understand the history between two cross border rivals and their respective coaches. The scoreline might have been wider than Garbelotto wanted but he couldn't fault the commitment of his new-look Rocks. And to describe this as a 'friendly' would be akin to describing Darius Defoe as dainty.
Newcastle return to action and their temporary Benfield home this afternoon when feeder club – and Division One champions – Team Northumbria set out to claim an unlikely scalp (1.30pm tip-off). "Ask me after that how good we are," added Gunjina. "But right now I think we can win a few games."