| | | | | | | |
| --- | --- | --- | --- | --- | --- | --- |
| Eagles | 24 | 29 | 40 | 36 | 129 | Win |
| Derby Trailblazers | 21 | 16 | 17 | 22 | 77 | Loss |
There will be bigger and tougher tests ahead for the Seriös Group Newcastle Eagles as the season progresses for sure but Marc Steutel's new-look roster were certainly impressive as they blew brave Derby aside in their opening pre-season game
There have been many that have been impressed with the Eagles summer recruitment and it's easy to see why. This excellent result and performance especially in the second half showcased some of the firepower available to Steutel this season.
Even without Devin Whitfield and Scott Spencer who were both carrying minor injuries and were not risked, the men in black still looked ominous against a Trailblazers outfit that have always been a solid NBL Division 1 side.
Indeed, Derby included ex-Eagle and Leicester Rider Corey Johnson, ex-Sheffield Shark and Manchester Giant Rob Marsden and ex-Rider Raheem May-Thompson within their roster showing they had some ex British Basketball League strength of their own.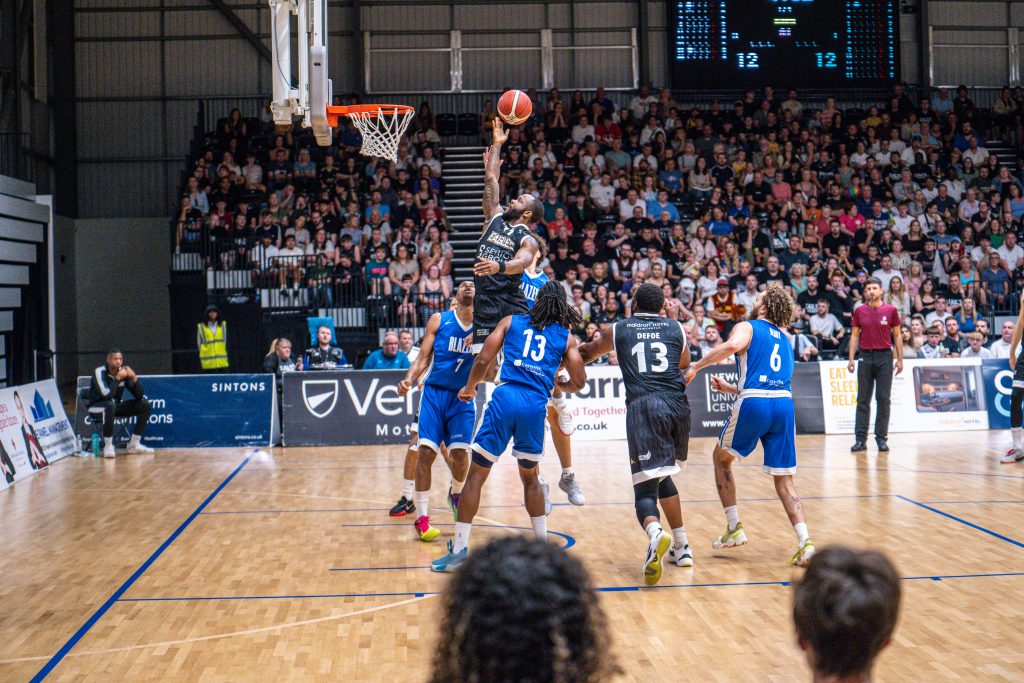 That showed in the early going as both side's looked to shake the summer rust off and come to terms with playing alongside each other for the first time. Eagles started with Jordan Johnson, Rickey McGill, Josh Ward-Hibbert, Malcolm Delpeche and Tajh Green.
A quick look down the bench and there was ex-Cheshire men Larry Austin Jr. and Will Neighbour available for Steutel as well as the evergreen Eagles captain Darius Defoe now about to embark on a 20th consecutive top-flight season in Newcastle.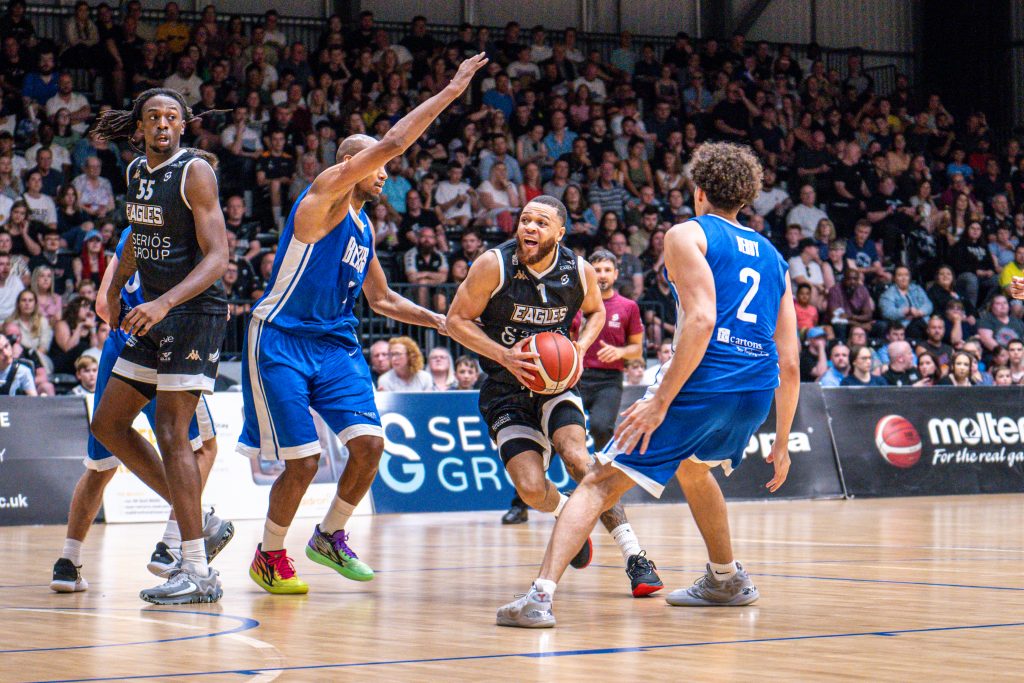 As often is the case in games like this the lesser ranked team in Derby did manage to keep it close in a well fought first quarter that swayed one way and the other but one Newcastle came out of with a slender lead at 24 – 21.
Derby continued to battle well and stay with their higher league opponents for a stretch in the second half. But gradually Johnson and McGill in particular began to pick holes in the Derby defence and Green, Ward-Hibbert and Delpeche capitalised.
Add in Neighbour coming off the bench to net some long range bombs and Austin Jr. showcasing his all-round game talents and the home side began to get on top easing away to lead 53 – 37 at the interval.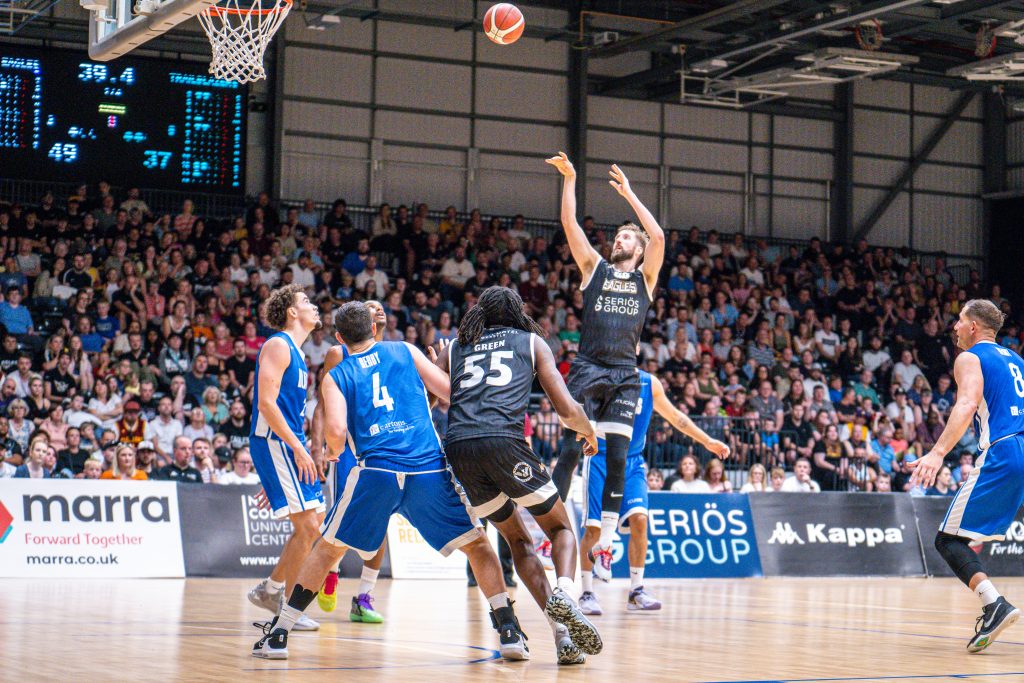 With every passing minute the Eagles began to flourish and finish as they learned to complement each other and feed off the energy created. Defensively they were very solid as well and scoring right across the roster.
An excellent 40 – 18 third period saw Newcastle pretty much put the game out of Derby's sight and Steutel's men didn't let up in the final period either closing out the game with a 36 – 22 final ten minutes.
It all added up to a staggering 129 points netted and only 71 conceded in reply. Defensively may be where Steutel and Assistant Coach Gary Stronach may well have been best please. Only allowing 56 points across the final three periods was a good effort.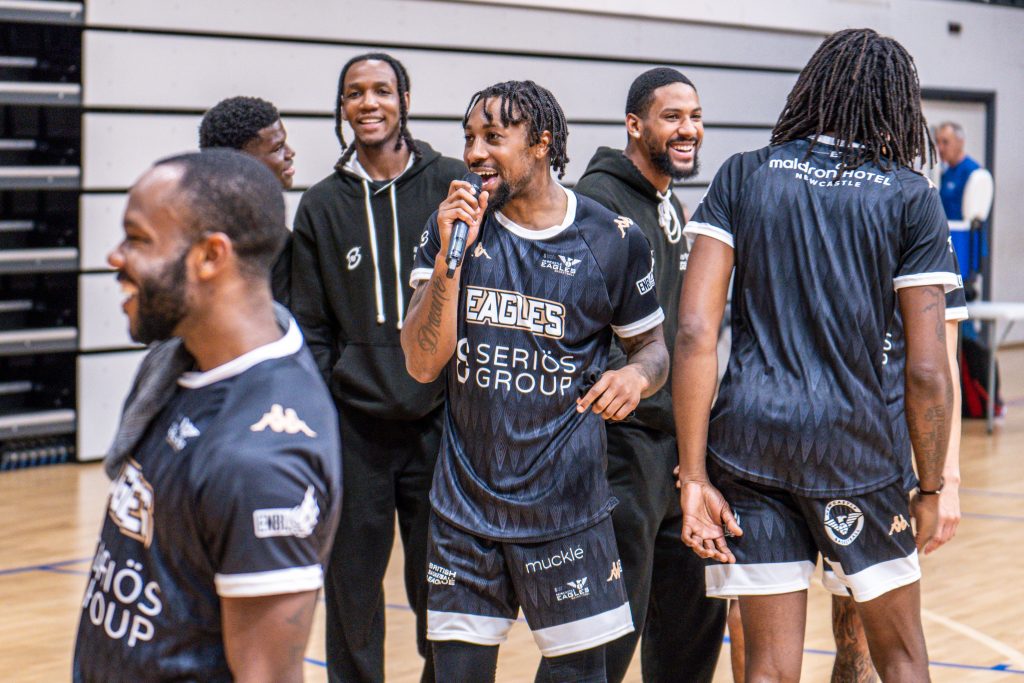 Eagles also managed an incredible 36 assists in the game and also had 13 steals. Their efficiency rating of 179 for the forty minutes was superb especially compared to the oppositions 68.
So, an excellent first work-out for Newcastle who look a very tight cohesive and together unit even if it's only their first forty minutes together as a team and the packed Vertu Motors Arena was well please with what they saw.
Next up for the Seriös Group Newcastle Eagles is the annual visit to Tyneside from Sean Kilmartin and his USA Select. That game takes place this coming Tuesday 5 September at 7:30 pm and tickets which are selling fast from the box office.