It might be game over in the BBL Cup, but Terry Martin knows the Newcastle Eagles still have plenty to play for.
After Friday's agonising 80-79 loss to the Cheshire Phoenix, he wants the team to hit the reset button and return to winning ways.
The forward is one of seven new faces and has revealed one of the keys to adapting to life on Tyneside – video games.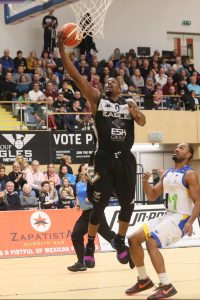 Now playing in a sixth country and on a fourth continent, Martin admits he still finds settling into a new culture difficult.
And after moving from South America to the North East in the summer, he is still getting used to Fab Flournoy's setup.
But he expects things to get easier for both himself and the Eagles as a whole in time.
"The Geordie sayings haven't really clicked with me yet but besides that, everybody here has been really friendly and accepting," the American said.
"That's one good thing about this team, we all really get along.
"We all clicked from day one, there was never any personal clashes or people that just didn't get along.
"We all get along, we all hang out together and it shows on the court, we're building that comradery.
"Playing video games has helped actually."
The roster overhaul meant that it was a summer of revolution, rather than evolution, for the Eagles.
Hall of Famer TJ Walker, who recommended Martin to Flournoy, has already drawn comparisons between the Cincinnati native and another former Newcastle icon, Charles Smith.
Despite the big billing, Martin has been integrated into the team cautiously so far, averaging just shy of 10 points per game in that time.
The forward put in a productive performance on Friday, finishing with 14 points, nabbing five steals and causing Cheshire problems throughout.
But he acknowledged he still has a way to go before he realises his full potential in an Eagles uniform.
When asked if that display was his best since joining, he said: "Offensively, yes but overall there's still a lot of room for improvement.
"I missed some shots that I should have made and I made a couple of bad plays defensively so I've still got a lot to work on."
The 6ft 7in forward was far from the only one to struggle defensively and failed to execute on occasion against the Phoenix.
Not for the first time at Sport Central this season, the Eagles spluttered in the first three quarters.
The difference was that this time their fourth-quarter efforts were not enough.
Despite winning all five league games and breaking a couple of BBL records, Martin believes Flournoy's team still are yet to hit top form.
When asked if there were any particular reasons for their sluggish starts, he said: "It's all us. It's the team, it's nothing outside of that, it just needs to be corrected.
"We just sit back and wait rather than going out and being the aggressor and that's something we need to work on."
Friday's defeat was particularly deflating as it saw Newcastle exit the BBL Cup, a competition they had won three years in a row.
Martin is eager to exorcise the loss by refocusing on the league, where Flournoy's team are the only team still with a perfect record.
The Eagles have another home game this Friday, facing the Surrey Scorchers.
And when asked if the cup exit will serve as unwanted inspiration for the rest of the season, Martin was emphatic.
"Yes, absolutely, it has to," he said. "Any time you take a loss, you have to take it, put it to the back of your mind and use it as motivation."