Jaysean Paige is writing a remarkable new chapter in the history of Newcastle Eagles. Simon Rushworth pursued this season's big BBL story.
Paige is no stranger to success. As a high school junior he was named Western New York Player of the Year after leading Jamestown to a state runners-up spot – averaging 27 points and eight rebounds per game.
Fast forward to his college career and Paige settled at West Virginia to learn his trade under the legendary Bob Huggins. As a junior he started 10 games and hit a season-high 18 points against Baylor in the Big 12 Championship – a performance that secured his spot as the Mountaineers' sixth man heading into his senior year.
Paige's success story gathered pace in 2016 as he hit a career-high 34 against Iowa State before landing the coveted conference Sixth Man Award at the end of a stellar season. A born winner, the 23-year-old set his sights on Europe and arrived on Tyneside this summer via Germany and Macedonia.
"It's been a good start to my British basketball career," said Paige as he reflected on Newcastle's flawless 5-0 record in the most modest manner possible. "I guess it couldn't have gone much better."
And that, right there, is the understatement of the year.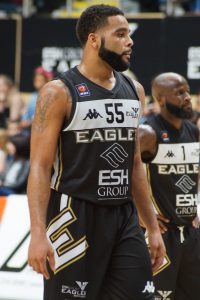 Paige has plundered a remarkable 133 points in five games. His breathtaking 37-point haul against Worcester last Friday dug Newcastle out of an almighty hole after the hosts had trailed by as many as 19 points against their bogey team.
And that sensational score followed 30 points on debut and another 33 against the Glasgow Rocks as Paige celebrated his first Sport Central run-out in style.
But for a player born to hit the headlines, the shooting guard comes across as a rather reluctant hero.
"It's not all about me," he added.
"I'm pleased with the way things have gone for me so far but the most important thing is that we've started well as a team.
"We need to keep pushing ourselves and moving forward. We have five wins on the board but there's a long way to go this season.
"We have to make sure we keep this run going. In basketball you can win five games in a row and lose five in a row. We're aware of that."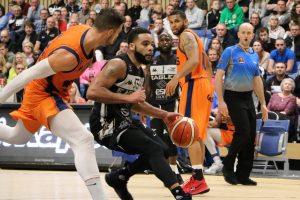 A cautionary approach is all well and good but it's difficult to see how a Newcastle team with so many offensives weapons will succumb to five losses all season – let alone five defeats on the bounce. Injuries could play a part but the only real and present danger to a team in transition is a worryingly weak defence.
"We need to stick to playing our way," added Paige, ahead of well-deserved week off. "We need to focus on our game.
"We've started a little slowly in the games so far but we've changed it up down the stretch and that's got us through some tough games.
"We know we can't rely on those final quarter surges every week. And we know we're not the perfect team.
"But we've shown that we can become better through adversity and that's a good quality to have. We have shown we can be better and we will be."
Both London and Worcester have done their best to limit the damage caused by Paige and backcourt partner Saah Nimley.
But Newcastle's lively young Americans know every trick in the book.
And after the Eagles rolled off successive comeback wins it's back to the drawing board for the BBL's chasing pack.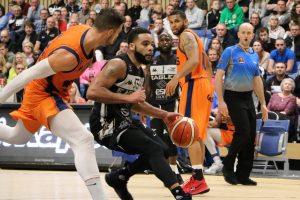 "If the other team decides to double team me then fine," said Paige. "That gives the other guys more space and time.
"Everybody has different roles and if there are times when we need to focus more on our defensive energy than on our offensive threat then we can do that.
"Right now we're winning games. It's as simple as that."
Paige is no stranger to silverware and has a taste for winning trophies. But can Newcastle quench his thirst for more success?
"I've played with some pretty good teams in my time and got off to some pretty good starts," he added.
"But it's not about how you start a season. It's all about where you are at the end."
Newcastle return to action at Spot Central on Friday November 3 when the club hosts Cheshire Phoenix in the BBL Cup.