Defensive enforcer Orieoma Chukwu-Etu will double down on her dual career dream after inking a new deal with Newcastle Eagles WBBL.
The former Sacred Heart pupil shot to prominence last season after forcing her way into Chris Bunten's starting five.
And as Chukwu-Etu approaches the final year of her pharmacology degree at Newcastle University, the talented guard is ready to take her game to the next level on and off the court.
"If last year was a steep learning curve and a tough challenge then this year looks even harder," admitted the former Eagles Academy star.
"But it's exciting to see just how far I can go.
"I'm going into my last year as an undergraduate and I'm already thinking about my dissertation.
"The academic side of things is going to be really intensive but I also want to contribute to Newcastle University's basketball programme.
"At the same time I want to build on last season with the Eagles. It felt like my hard work paid off and it was great to be a part of a team that finished so strongly."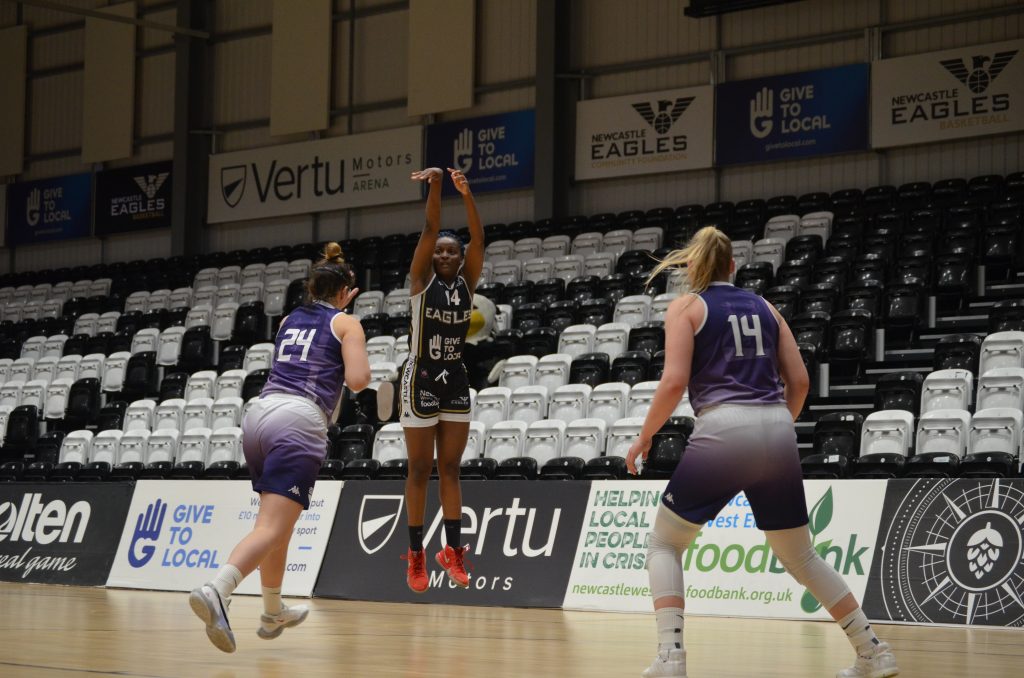 Chukwu-Etu was forced to step up last season after a succession of serious injuries and key departures left Bunten down to the bare bones.
But the feisty Geordie was up to the task as she set about dominating the paint and delivering a series of consistent displays at the top level.
And Bunten will find it difficult to ignore Chukwu-Etu's starting five claims after the homegrown favourite laid down a marker during a breakout campaign.
"It was a strange season for everyone," added a player who recovered from a worrying head injury in time to take her place in the WBBL playoff final.
"At the start of the year I was coming off the bench for a few minutes here and there without really knowing where I fitted into the team.
"Breaking into the starting five and showing what I could do in the paint felt great.
"I live for those defensive battles and doing what I can to disrupt the opposition.
"Shutting down players is something I relish."
True to form, Chukwu-Etu has been busier than ever this summer as she continues to play her part in the national effort to tackle the coronavirus.
The committed Tynesider has been splitting her time between a Covid lab and shifts at the Vertu Motors Arena pop-up vaccination centre.
And since mid-August Chukwu-Etu has been training hard with her Eagles team-mates ahead of this month's WBBL Cup opener.
"I can already see where this team's going and how we can improve," she added.
"The competitive nature of the players Chris has brought in this summer means we're only going to get better as a group.
"Players like Marina [Fernandez] are leading from the front and it's great to see her back.
"She's very mature for her age and very influential on and off the court. Marina is a real leader and she's someone who gives everyone else a huge amount of confidence."
Bunten has worked with Chukwu-Etu for several years now and has no doubt the best is yet to come from one of the WBBL's emerging stars.
"Ori's attitude and commitment last season was first class and she emerged as a key player at a time when it was all hands on deck," he said.
"She has a lot to juggle on and off the court and it's my job to help her manage those commitments and continue to improve as a player.
"I love working with Ori and it's fantastic to see that the Eagles Academy is bringing through great players and good people."
The 2021-22 Eagles WBBL team take to their Vertu Motors Arena home court for the first time this new season on Saturday 2 October 2021 at 7pm and tickets are on sale now from the box office.