It's a November awards double for our WBBL squad as forward Georgia Ohrdorf is crowned Molten WBBL Player of the Month in the same week our women's team head coach Chris Bunten landing the coaching accolade for November.
Ohrdorf was at the centre of their 4-0 record and she topped the WBBL efficiency chart last month after some excellent displays, with the Eagles winning three times on the road.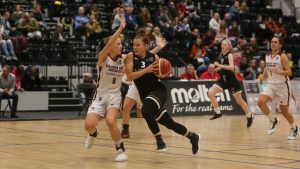 It completes a week of praise for the team which also saw our Swiss point guard and captain Giulia Simioni receive a starting place in the league's All-Star Five for Week 8 after a double-double of 21 points and 11 assists, also pulling down 4 boards and shooting 64% from the floor, away at Cardiff Met Archers on the weekend.
Our Eagles have had a stand-out few weeks and have reason to celebrate, but it is back to business this weekend as they face Manchester Mystics in their WBBL Cup Quarter-Final at the Eagles Community Arena.
Tickets for this Sunday's huge game with a 1pm tip-off are on special offer at just £5 per person and can be purchased online in advance or on the door from 12:30pm: