Esh Group Eagles Newcastle took their BBL Championship record to 3 – 0 with a solid 102 – 70 road win at Manchester Giants last Sunday, writes Jeff King.
Whilst it was an expected W in the Eagles column it still had to be played for, fought for and executed in the right way, a sentiment expressed by Eagles American power forward Terry Martin after the game.
"We didn't particularly play as well as we'd liked too on Friday against Glasgow. So, we talked about it and we came out and stepped it up and we just tried to follow up on what Fab (Flournoy) and the rest of the coaching staff wanted us to do."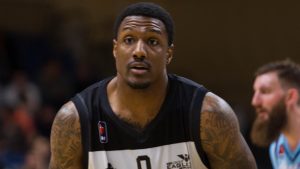 It appeared where The Eagles did step up from Friday against Glasgow was at the defensive end of the court, something that Flournoy and his teams are usually renowned for.
"We've always had a strong offence and we always will, we have a lot of firepower. But, defensively is sometimes where we lapse because we have enough offensive firepower to just beat people by outscoring them but locking in defensively makes it a lot easier."
The articulate and intelligent 6' 7" Martin who hails from Cincinnati, Ohio was recommended to The Eagles by former playmaker and Eagles Hall of Fame point guard TJ Walker after he had produced great statistics playing in Argentina for the last two seasons.
Martin was looking for a new challenge after picking up numerous awards in South America and after deciding to go to Europe had spoken with Walker who had no hesitation in recommending him to his former team-mate and friend Flournoy.
So far, Martin has shown glimpses of his talent that he can offer Newcastle but is very much in the development mode at present, although 15 points and 7 rebounds against The Giants on Sunday in just shy of 17 minutes playing time was an effort that helps his and the team's cause.
"I still feel that I could have done better and that we all could have done better but it feels like a small step in the right direction and something that I've got to continue developing and improving upon."
Martin will certainly need to be at his best on Friday night as he takes his place in The Eagles roster who entertain the also unbeaten London Lions at Northumbria University Sports Central in an early season blockbuster of a game.
"It's going to be exciting and it's going to be a clash of two of the top teams in the league and it's hopefully also going to be fun. There are a lot of Eagles fans out there and they make our home arena rock so they can help us."
"We're all taking steps in the right direction and I feel improving with every day, practice and game we have together as a team and as individuals and we'll face the test together on Friday night."
SaveSave