It's 'Mission Playoffs' for Newcastle Eagles this weekend as the WBBL's wildcards bid to double down on their post-season push.
Noelia Cacheiro's side face title challengers Leicester on Saturday just two weeks after the rampant Riders dumped the women in black out of this season's Trophy.
And less than 24 hours later Newcastle host derby rivals Durham Palatinates in a clash that could go a long way towards deciding the final playoff places.
"Saturday is another opportunity for us to work out what we need to do to beat Leicester in the playoffs," revealed Cacheiro.
"It will be another steep learning curve but another invaluable fact-finding weekend.
"The Riders can be beaten and we will continue to work on identifying their weaknesses and minimising their threats.
"Every time we play Leicester we get another good look at a team we could face in the playoffs."
As things stand the second-placed Riders would lock horns with seventh-seed Newcastle for a place in the WBBL Playoff semi-finals.
But both teams are looking up the Championship table with the Riders still dreaming of taking the title and the Eagles seeking to reel in sixth-placed Essex.
Durham, meanwhile, loom large in ninth and the in-form Palatinates have their own designs on overhauling Newcastle down the stretch.
"As soon as Leicester's done the focus switches to the Palatinates," added Cacheiro.
"Even if it wasn't a local derby it would be a huge game in the context of the WBBL table.
"It's a big match-up between two direct rivals and I have a feeling it will be a good game to watch.
"I'm sure Durham will press us for 40 minutes and we need to counter that.
"We need to create better — rather than more — scoring chances and focus on our shot selection.
"That means making better decisions with the ball in hand and cutting out the turnovers that continue to cost us this season.
"We're naturally playing a faster brand of basketball without Katie [Nolan] in the rotation but we need to control the pace of the game against a team like Palatinates."
Nolan is still nursing the broken hand that's forced one of the WBBL's most efficient scorers to miss successive Newcastle games.
And she will be joined on the sidelines this weekend by Zoe Willis with the guard set for a scan on her troublesome knee tomorrow.
But there's better news for Eagles fans with the confirmation that ex-Palatinate Abby Lowe is set to return this weekend.
And the all-action guard could make the difference on derby day against the team she joined on a short-term deal 14 months ago.
"Abby's return couldn't be better timed and she's building her confidence and match fitness every week," added Cacheiro.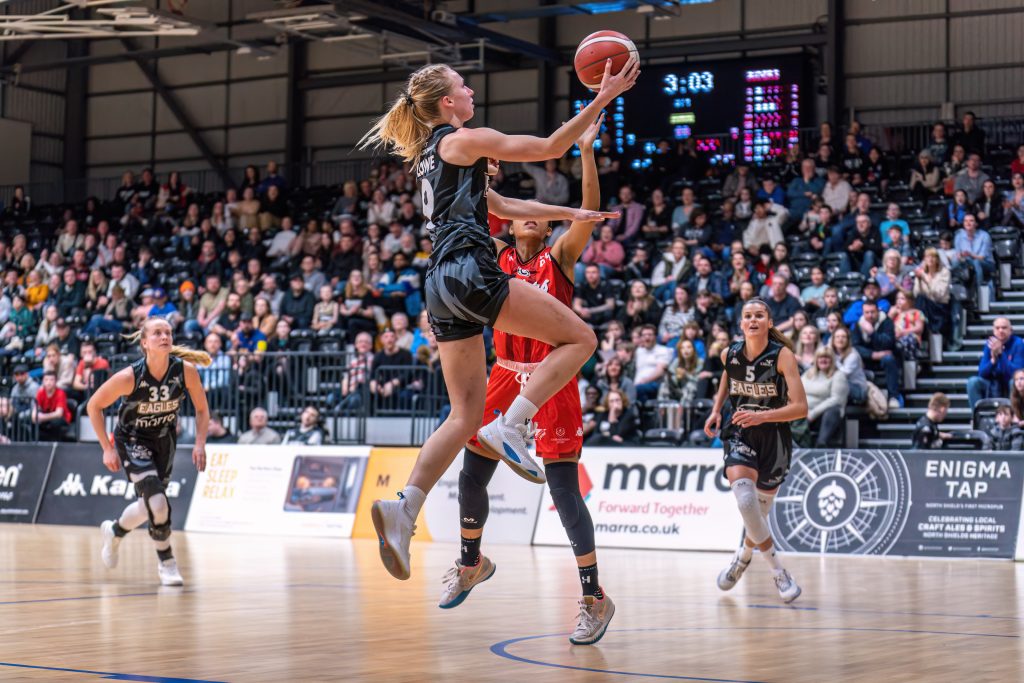 "She's still not 100 per cent but if we can get her back to somewhere near that level heading into the playoffs that will be a huge plus.
"Katie can't play with her hand the shape it's in right now but I'm hopeful she'll be back before the end of the regular season.
"And if Zoe's scan goes as planned then she'll be back in contention within a couple of weeks."
Newcastle head into another potentially decisive double-header weekend on the back of successive defeats.
But Cacheiro chose to focus on the positives coming out of Saturday's cruel overtime loss at Oaklands Wolves.
"We should never have put ourselves in a position to lose to the Wolves but in many respects, we were a victim of circumstance," added the Spanish play-caller.
"What I took away from that game was the fact that we've grown as a team and we've developed a real fighting spirit.
"We were 13 points down with less than five minutes on the clock but I told the players that the game still wasn't over and to their credit they forced overtime.
"When it comes to the playoffs we know that if we get stuck in a rut then we can always find a way out. This team never knows when it's beaten."
Tickets for this Sunday's Derby against Durham are still available from the box office.