Darius Defoe can see leadership everywhere he looks in his 14th season as a Newcastle Eagle.
And as the most successful franchise in British basketball history goes in search of a fifth straight win against Worcester Wolves on Friday, the in-form forward revealed he's readily soaking up the knowledge of his talented team-mates.
Defoe single-handedly dragged Newcastle back into contention as the Eagles defeated London Lions on the back of a 17-point fourth quarter swing last time out.
But as he reflected on a brilliant 30-point haul the modest forward revealed: "I'm learning from the best.
"That's what I love about this team already. It's a new team but everybody has found their voice. We talk to each other and help each other and everyone listens.
"When someone on this team says something you need to listen. These are talented and experienced guys.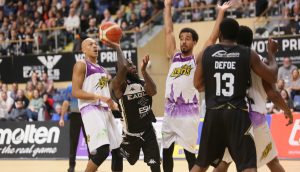 "Putting the ball in my hands in the second half against London wasn't a tactic as such. But at the end of the third quarter Saah [Nimley] and Jaysean [Paige] took me to one side and told me not to roll all the way to the basket.
"They suggested I took my shots earlier and they found me in the right positions at the right time.
"Saah and Jaysean are new to the league but they're quick to make their point. I love that."
The Eagles moved to 4-0 following Friday's stunning comeback win against the Lions but Worcester have a habit of spoiling the party for the men in black.
And Defoe is in no doubt Newcastle must do all they can to prepare for a full-on attack by the Wolves pack.
"It's all about keeping the momentum going at this stage of the season," he added.
"Worcester have a good record against us but we came back from our day off and straight away the focus was on finding a way to beat them.
"Come game day we'll know what we need to do."
If defeating London in the second week of October is hardly an indicator of Newcastle's title credentials then the nature of the victory could be deeply significant.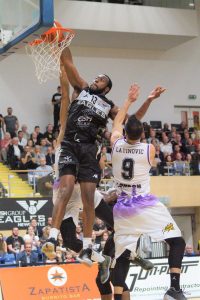 The Eagles looked down and out heading into the fourth period but it was a sense of togetherness – rather than recognised talent – that helped Fabulous Flournoy's men turn the corner.
And Defoe admitted: "It felt like it could be a significant victory and one that we might look back on further down the line.
"We only ever take things one step at a time. We don't look too far ahead and we don't look back.
"What's in front of us right now – Worcester on Friday – is what we're concerned about.
"But of course other people will look at the London win and make their own minds up."
Mariusz Karol's side slipped to their first loss of the season at Sport Central but became the first team to restrict Newcastle to a sub-100 point winning total.
"We came out of the game happy that we'd done a good job"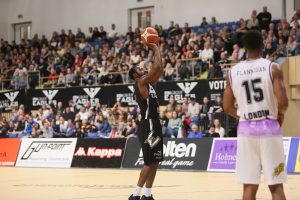 Defoe added: "We were ready for everything that the Lions threw at us.
"But we hadn't been down by as many as 11 points before this season and of course it was a challenge.
"We worked together to make that win happen. What we achieve we achieve as a team.
"Everyone played their part and we came out of the game happy that we'd done a good job.
"When you're 11 points down against a team of London's quality you have to dig deep.
"The key is keeping a cool head. We didn't rush it because we were confident we could bring it back. Ten minutes is a long time in basketball."
🔥 Your MVP Darius Defoe was on fire last night! Here's one brilliant Eagles defence that led to DD's fierce one handed dunk. 🖐🏀🗑

Posted by Newcastle Eagles on Saturday, 14 October 2017