Excited or excitement or even exciting, these seem to be the buzz words about the new-look Esh Group Eagles Newcastle roster that will contest the British basketball season, writes Jeff King.
Even though Head Coach Fab Flournoy has already stated that what's on paper doesn't always translate to what you get on court, there's a palatable feel around the camp that this could be a special year.
That whole feeling is certainly echoed deeply by veteran guard Drew Lasker who is only one of three returnees from last season as he begins his fifth consecutive year on Tyneside ready for the challenge ahead.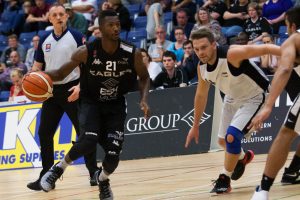 "I'm ready to get started with the new team and with some new vigour and some fresh legs I'm ready to go. It's my 13th season as a professional and I'm excited."
"I think it's going to be big having some fresh faces in especially for someone like myself and Darius [Defoe] who have been around a long time because it kind of re-energises you and creates a new motivation."
With all the new players going in by last Friday to join Flournoy, Darius Defoe and Lasker, the Eagles old guard have had a couple of training sessions to show their status and Lasker seems impressed at the early signs.
"I think we've got the right team"
"I think we're going to be, the one way I can put it is, exciting. I think with the group that we have we can be very, very versatile with a lot of different styles which will be good. That's the thing about The BBL it's becoming a versatile league and you've got to have guys that can play two, three or more positions and I think we've got the right team for that."
Three of the new players, Saah Nimley, AJ Basi and Jaysean Paige are guards and will form a four-man rotation at those spots with Lasker who is aware of his responsibility as the senior man.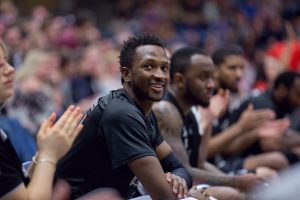 "I'm trying to find the balance in practice of competing and trying to show the guys how to do things Fab's way. It's always a tough adjustment. I was in the same place they were a few years ago. For anyone no matter where you come from it's always an adjustment getting used to the system."
"So that's part of my responsibility as an older established part of the system to help the guys make the transition as smoothly as possible. It should work perfectly because of the three guys we have that have been here before."
"We can kind of break it down and try and split it up from time to time with Darius and me talking to and taking different guys away and working on different things and taking some of the pressure off Fab."
The Eagles get their pre-season campaign underway this coming Friday night with a match against the touring Team USA Select side a familiar opening to the pre-season and one that Lasker feels is perfect for the team to get to know each other and the fans.
"It's going to be exciting for the fans to see"
"I think it's going to be exciting for the fans to see what a great job the coaching staff has done once again. One thing that Fab has always told me is that we don't rebuild we re-energise so no matter who we lose from year to year we just try to pick it up from where we left it."
"We know the expectations are going to be high, they always are at Newcastle but we've got to be ready to go and Friday will help everyone on and off the court launch the new season."
SaveSave