Drew Lasker has warned Leeds Force that Newcastle Eagles are 'game ready' and raring to go ahead of Friday's big British Basketball League tip-off.
Last season's runners-up used the inaugural Betway British Basketball All-Stars event to sharpen their match fitness in the face of a fast and furious format.
And after reaching the final at London's O2 Arena focus now turns to a Force franchise beginning to make its presence felt in the BBL.
"Leeds have been progressing as a basketball club year on year and last season they picked up their first win against Newcastle," said Lasker.
"We haven't forgotten that. I think they will only get better and better so we'll have to be ready.
"We're away from home but that could work for us. Being on the road for the first game is a good thing with so many new players in the fold.
"It's another opportunity for us to spend time together living in each other's pockets and getting to know what makes your team-mates tick.
"When you travel to a ball game you're forced to come together as a group. There's no other option."
Player-coach Fabulous Flournoy spent the best part of a weekend bonding with his revamped team in the capital after blooding his new recruits in three pre-season fixtures earlier this month.
"We knew the All-Stars would be competitive"
And although All-Stars basketball – with truncated games, rolling substitutions and powerplays – is nothing like the real thing Lasker pointed to the event's benefits for a team in transition.
"We knew the All-Stars would be competitive," he added. "It didn't matter where you finished last season – everyone was in the same boat going into a new competition with new rules.
"Some teams adapted quicker than others and we were one of the slower teams out of the blocks. But we're quick learners.
"The biggest thing for us was using the weekend to get into competition mode. On Friday we hit the ground running – pre-season is over and we need to be firing on all cylinders when the league tips off.
"We used the All-Stars to prepare ourselves mentally and physically for the challenges ahead. That was the goal. Reaching the final was a bonus but, of course, when we got there we wanted to win. That's why we made the trip to London.
"The bigger picture is that we're bedding in seven new guys and after a weekend on the road together those players know what it means to be a Newcastle Eagles player – if they didn't already. We've had time to bond and come closer together as a group."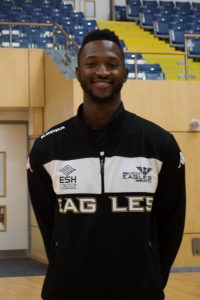 Veteran Lasker featured off the bench in London after sitting out much of Newcastle's pre-season programme.
"I'm just trying to manage a minor calf injury," he added. "We've been smart in pre-season to make sure it doesn't affect me once the BBL campaign gets underway. It's a long season and we have to be sensible."
Newcastle face Leeds on Friday (7.30pm tip) before hosting cross-border rivals Glasgow Rocks at Sport Central on October 6.
Tickets are on sale now.