It was a game that was built-up all week, two unbeaten teams in The BBL coming in to Friday night's clash, although London Lions had already beaten Esh Group Eagles Newcastle in the pre-season O2 All-Stars Basketball Tournament last month, writes Jeff King.
Did it live up to its billing? Absolutely and then some too. A game that swung like a pendulum on fast forward saw one team looking favourites only to be outdone by the other before the situation was reversed around again.
The Eagles had led by eight in the first half and took a six-point lead in to the locker rooms at the break. Lions came out roaring in the third quarter and a huge seventeen-point swing gave them an 11-point lead going in to the final quarter.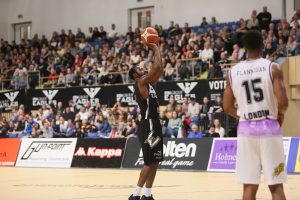 But The Eagles dug deep, showed real character and led by a fantastic 30-point haul by Darius Defoe somehow came out on the right side of a final 85 – 79 score line to keep their 100% record intact and gain some revenge for that pre-season defeat.
This thrilling game which was played out in front of a superb home support who almost lifted the roof off Northumbria University's Sport Central building included one "cheerleader" who would rather have been on the court in Eagles veteran guard, Drew Lasker.
Lasker who had a slight hamstring strain that kept him out of the contest had to sit and support his colleagues from the bench and so was well placed to comment on a game that was a credit to British Basketball and the league.
"It was awesome. It was kind of a game of runs. We started off playing well and then we went in to a slump in the third quarter and then we turned it around again. It was an amazing game, the fans helped us so much and were unbelievable tonight."
The Eagles did have to dig deep and show a different side of their character after a flying start to the campaign they really had to show grit and determination to turn the game around.
"I think we just turned out defence up notch. Our defence was lacking in the third quarter, it looked like everyone was looking at each other waiting on someone to set the tone and no-one really did until we got desperate as a team."
"Then in that final quarter we finally drew that line in the sand and said that enough and let's go and we did and that was a gamechanger right there."
"We needed a game like that, a game where we were tested to help us see exactly what type of team we've got this season. It's easy when things are going well but you really see what type of group you've got and what kind of guys you have when things get tight."
Lasker himself was missed as he is the kind of player that sparks his team, the crowd and the situation. So, how did he feel on the bench unable to help on court?
"Helpless, helpless. It's tough sitting over there but I think that's one of the advantages we have this year having a deep team, especially for myself. I have a history of little niggles so with this group I don't have that pressure of having to play with them and fight through those things."
"We've got 1 – 10 this year who can all play so it just means I could be over there on the bench being the biggest cheerleader I could be."
Lasker hopes to be back in action this Friday when The Eagles looking to go five unbeaten take on a tough Worcester Wolves outfit at Sport Central with the usual 7:30pm tip-off