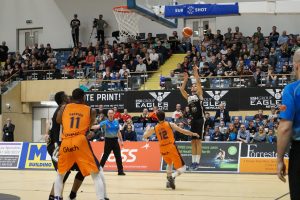 Jure Gunjina insists Newcastle Eagles can repel reigning champions Leicester Riders after revealing the BBL leaders have found strength in adversity.
The classy Croat remains an enigma following his close-season switch to Sport Central as he struggles to convert raw talent into key stats on a consistent basis.
But Gunjina showed flashes of his undoubted quality during Friday's come-from-behind win against Surrey Scorchers.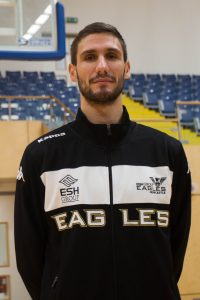 And ahead of Friday's crunch clash against Leicester, the 25-year-old promised the Newcastle faithful: "We're working harder than ever this week.
"We can't play like we have done in the last three games against the champions. We know that and we're knuckling down.
"We have to be game ready for the Riders because they will be coming here to win. They are a team with experience and quality and we respect that. If both teams are at their best it will be a great match-up."
A determined Gunjina has successfully come through a series of on-court dressings down by player-coach Fabulous Flournoy as he strives to become an impact player off the bench.
But the versatile forward is not alone in incurring his coach's wrath with a number of Newcastle rookies exposed to the New Yorker's unrelenting quest for perfection.
Flournoy's unforgiving approach to attaining BBL success, coupled with character-building back-to-back losses on the road, has served to focus the minds of Gunjina and his team-mates heading into the biggest match of the Eagles' season so far.
"The back-to-back defeats on the road were a tough lesson to learn but in the long term they'll help us," he added.
"It didn't feel like it at the time but we need to use those experiences to our advantage. "We've been there now and experienced what it's like to play away at some pretty tough places. Fortunately for us it's still early in the season and we've got time to put things right. "The fact is there are a few other good teams in this league and we have to accept that. The BBL is not an easy place to play."
In-form Surrey proved the point last Friday as they came within a whisker of dumping Newcastle out of the BBL Trophy only to self-implode down the stretch.
A remarkable final quarter capitulation by the visitors saved the Eagles from an embarrassing exit and Gunjina admitted: "We got lucky against Surrey. But we can't rely on that luck at home every week.
"We need to work out how we can avoid those pressure situations down the stretch. It's happening too often.
"It's nerve-wracking for everyone when you're heading into the final quarter at home and you're down by a few points. The fact that it was a knockout game made it even more tense.
"We'd already gone out of one cup competition at home this season – losing by a point on the final shot of the game – and that was in the back of our minds."
Newcastle have made a habit of overhauling fourth period deficits this season but Gunjina would prefer to swap the dramatic for the pragmatic.
"I guess we just look to keep it interesting for the crowd," he added. "But seriously it's not something we're proud of.
"We'd played Surrey at Sport Central a few weeks earlier and beaten them quite comfortably. It was pretty clear they were out for some kind of revenge.
"Maybe that's why they had such a strong start and we were too slow to react. We were also trying to bounce back from a couple of tough away defeats – maybe we needed a bit more time to shake off those losses.
"Leicester won't give us that time. We need to start well."
Tickets for the clash with Leicester on Friday night (7.30pm tip) are on sale now.
Sign-up to our newsletter to get great value discounted tickets:

Fans arriving early can catch Team Northumbria taking on Caledonia Pride in the WBBL from 5pm. Both games will be streamed live by the BBC.