Zarko Jukic sets his sights on international glory this week after a dream start to life in a Newcastle Eagles vest.
The dependable Dane already leads the BBL in blocked shots and is fourth in steals.
And getting the jump on Jukic has proved beyond the majority of the flexible forward's nonplussed rivals this season.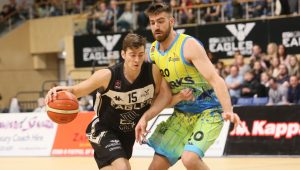 "My Eagles career couldn't have gone much better," admitted the 24-year-old as he joined Denmark's senior squad ahead of Sunday's Eurobasket 2021 pre-qualifier.
"I couldn't have asked for a better start. We've lost one game but we've come back strongly. That's the important thing."
Jukic will miss this weekend's away-day double header at Bristol and Plymouth as Denmark tackle Armenia on Sunday.
But the versatile forward signed off in style with another stellar display against Sheffield as Newcastle held off a late charge by the Sharks.
"Linking up with Denmark on the back of a loss would have been tough," he added. "It would have hurt.
"But to join my international team-mates on the back of an 8-0 start to the league season is fantastic.
"I'll be telling my team-mates all about Newcastle and the BBL. It's been a great start to my season and of course I want to shout about it!"
Jukic's call-up to the Danish senior squad was fully expected by Eagles' bosses and it is no coincidence that Jamal Williams joined Newcastle last week.
The veteran forward is ideally placed to take his chance this weekend after an impressive debut against Sheffield.
And with competition for BBL minutes increasingly intense Jukic added: "In an ideal world I wouldn't be missing this weekend's games.
"But there's a new format as teams look to qualify for Eurobasket 2021. It's unusual to play international matches in the middle of the season but I knew it was coming.
"We had a camp in the summer and I'm looking forward to getting back together with the majority of the same guys.
"We have another five-day camp this week before we travel to Armenia to play on Sunday. We're in a group of three with Albania.
"We should win the group with the talent that we have at our disposal."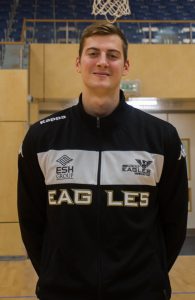 Jukic's form will be a huge boost to the Danes and the Newcastle starter will be pushing for serious minutes on the international stage.
Five blocks against a physical Sheffield side underlined his importance to Fabulous Flournoy's new-look roster.
But Jukic admitted the Eagles dodged a bullet as Atiba Lyons' men ate into a 19-point Newcastle lead and almost produced the comeback of the season.
"It was very close," he added.
"I thought we came out more aggressively than we had done in the two previous games but we lost our intensity late on.
"It's been the opposite for most of the season where we've finished games strongly.
"But we stuck together and it was a good win in the end."
Newcastle face Bristol on Saturday (7.30pm tip) before a trip to Plymouth on Sunday (4pm tip).