Newcastle Eagles are delighted to announce the return of sharp-shooting guard Eddie Matthew for his sixth season at the club and the former Eagles junior's ninth BBL season overall.
Continuing to show improvement year-on-year, in the last campaign the 24-years-old was having his best ever run, averaging just over 20 minutes a game and 10.3 points.
Matthew was side-lined with an injury for the 2020 BBL Trophy win in the week before last season was cut short due to coronavirus. The extended break has made him even more eager to get back on court and look to progress even further under the tutelage of head coach Ian MacLeod.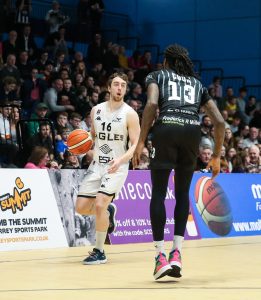 "It's great to be back at the ECA. I can't stress how grateful I am for the opportunity to play basketball again given the incredibly challenging times we find ourselves in. Credit to Paul Blake and the Eagles staff for getting us to this point", said the 6'2" shooting guard.
"Hopefully, I can give something back to the club for the faith they, and especially Ian MacLeod, have shown in me.
"I was given some wonderful opportunities last season and like to think I grabbed them with both hands before the season was cut short. I'll try my best to pick up from where I left off.
"The team is shaping up nicely and looks well-balanced. It'll be great to link up with the guys when we're all in the toon. I've missed the camaraderie and competition whilst in lockdown and it's reignited my passion for the game."
The Eagles' summer recruitment has brought Matthew's good friend Louis Sayers to Tyneside. The pair previously played alongside each other at both Plymouth Raiders and Leeds Force.
"It'll be nice to see Louis, who's stalked me to another club in the BBL. I can't get rid of him!", Matthew joked.
"As usual our goal is to win some silverware, but given the unpredictable times I think it's also essential we aim to bring some stability to the club and provide an outlet for fans who will have undoubtedly missed basketball and Friday night routines over these last months."
An intelligent articulate young man Matthew is well versed in the Eagles ethos and Coach MacLeod is happy to have him back in his roster and is challenging him to improve on last year's performances.
"Eddie showed us how far he has come last season. Over the seven BBL games he played he averaged over 10ppg, now the challenge is to go up another gear", said MacLeod.
"He must focus on adding to his game and becoming a presence within the team, I am excited to see what he can achieve. We all know he can shoot, now he needs to build a reputation as a great professional."
The Eagles 2020-21 roster is now almost complete, but there are still many announcements to come over the next week in preparation for the sport's pilot game on September 18 as a warm-up for the much anticipated new BBL season.