Two of the rising stars of the North East basketball scene are shooting for international glory this month.
Newcastle Eagles Academy products Sauveur Kande and Yemisi Mefful will represent England at home and abroad.
And both look set to inspire the next generation of homegrown talent with a number of young pretenders snapping at their heels.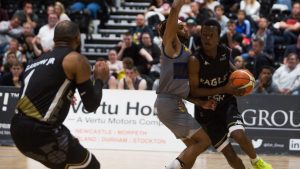 "This is a great opportunity for Sauveur to take his first steps into national team basketball," said Newcastle Eagles interim head coach Ian MacLeod.
"He has worked incredibly hard over the last 12 months and that was reflected in his call up to the BBL side earlier this year.
"There is a long road ahead for him and a lot of hard work. But I feel this experience will make him even more driven in his pursuit."
Kande is in line to make his England Under 18 debut in Manchester this weekend in the Tri Nations tournament.
Staged at Manchester's National Performance Centre, the home nations event features the hosts, Wales and Scotland.
The Tri Nations represents the first step in the selection process for Great Britain's junior teams ahead of next summer's European Championships.
And Kande, who hails from Byker and has represented the Eagles' Academy since 2014, added: "It makes me very proud to have a chance to represent England.
"To be able to represent Newcastle at BBL level was a huge jump for me but now I am just focused on working as hard as I can and making my family proud."
Mefful is heading to Spain at the end of the month to represent England's Under 15s in a three-team tournament also featuring the hosts and Portugal.
And the talented teenager from Kenton is tipped for big things after a breakout year in the Eagles' Academy.
"Yemisi is a very exciting prospect and has made rapid progress after only joining the Eagles' Academy in 2018," said coach Corinne Vaughan.
"I've coached Yemisi as part of the Academy for the last two years and at regional level before that.
"Her excellent attitude, willingness to learn, make sacrifices and work hard to achieve her goals has enabled her to make great improvements over the last few years.
"Her selection with England is fantastic for the girls programme and has inspired her team-mates and younger players to want to follow in her footsteps.
"Yemesi has taken the opportunities and experiences with England in her stride and I'm incredibly proud of what she's achieved.
"I look forward in seeing how she further develops as a player and where her continuous hard work will take her."
England's Under 15 girls face matches on December 28 and 29 in Medina del Campo.