Newcastle Eagles' injury curse has struck again with the news that Jamal Williams will miss Friday's clash against Plymouth Raiders.
The veteran forward underwent surgery on a suspected broken arm yesterday – an injury that could well spell the end of the Anglo-Canadian's campaign.
Eagles bosses will wait for an update on Williams' operation before releasing any further details but player-coach Fabulous Flournoy must wonder what Newcastle have done to deserve this season's succession of serious setbacks.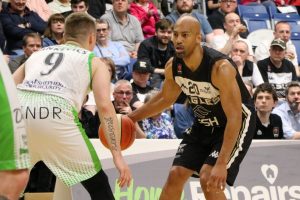 Fab has only just returned to BBL action after picking up an ankle injury last month.
And fellow forward Darius Defoe is another player feeling his way back to full fitness after starting his first game since February last Friday.
Jaysean Paige is nursing an ankle knock of his own – although the league's leading scorer did make an unexpected return against Glasgow on Sunday.
But the Eagles have been a man down since January when US import Terry Martin was ruled out for the rest of the season.
Only last week Flournoy admitted Newcastle were experiencing a season to forget as far as injuries are concerned.
And the Eagles' playcaller revealed plans were in place to try and prevent further lower leg injuries.
But nothing could prepare the club for Williams' arm injury and Newcastle will have to plot a fresh game plan for Plymouth's visit to Sport Central this week.
The Eagles are locked in a three-team race for second place – needing wins against the Raiders and Surrey Scorchers in their final two regular season clashes to take the runners-up spot.
Tickets to support our Eagles in this Friday's game are on sale now:
NEXT BBL HOME GAME