Maggie Justinak insists perennial underdogs Newcastle Eagles are primed to cause another big upset this weekend with a WBBL Trophy final place on the line.
And the in-form playmaker revealed she's relishing life as an 'emergency' point guard after making the key position her own.
Newcastle host league leaders Leicester in the Trophy final fours on Saturday night bidding to send the rampant Riders packing.
And after moving to 7-7 in the league following a fine win against Chantelle Handy's Caledonia Gladiators earlier this month, Justinak is in justifiably buoyant mood.
"It's a great time to be playing our biggest game of the season," she said.
"Our energy levels are really high and we took plenty of confidence from the Caledonia win.
"We haven't played for 10 days now but I feel like the space between games can help us out a little bit. 
"Leicester played last weekend so they'll have some momentum but we're rested and ready to go.
"We got a good look at most of their team when Newcastle University played Loughborough in the BUCS semis last week.
"We know what we're up against and we're confident we can cause them a few problems."
Justinak has been a revelation for the women in black since joining the club towards the end of October.
The former Denver Roadrunner answered head coach Noelia Cacheiro's call for a point guard after the Spaniard drew a blank in her search for a proven playmaker.
And Justinak has made the step up from BUCS basketball to the WBBL look easy after sharing the pivotal point guard role with Marina Fernandez.
"It was a big transition coming into this team as the point guard," she admitted. "It's difficult moving from the two to the one even though I've played point before.
"I just had to get into the flow of things and believe in myself. Marina has been a big help in terms of sharing the load and helping me to settle into a rhythm.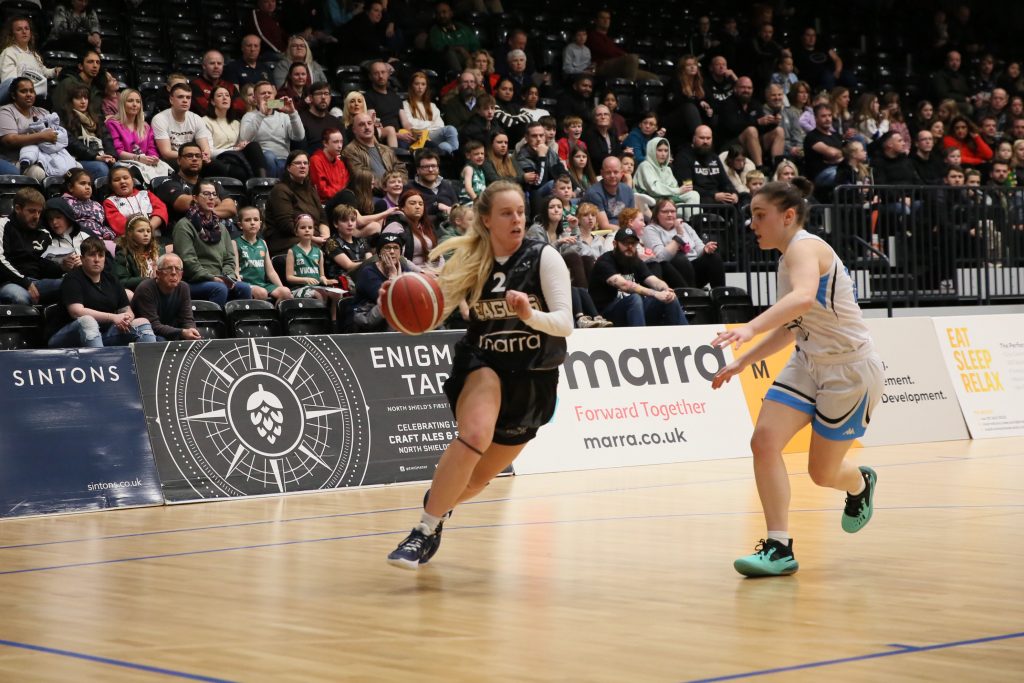 "I do enjoy playing point and I've relished the challenge. At first, I was hesitant. I'd gone from not playing point for three years to running the plays in the WBBL. 
"It was a big step up and it's a little bit different to what I've been used to. But right now I'm loving the responsibility and I'm pleased with how things have turned out."
Justinak is averaging 12 points, four rebounds and three assists per game during her rookie campaign in the WBBL.
And she'll be up against former Newcastle favourite Jessica Eadsforth-Yates this weekend with the Leicester guard enjoying a purple patch of her own in a Riders jersey.
That absorbing head-to-head is just one of the fascinating sub plots underpinning Saturday's knockout narrative.
But Justinak added: "If we get our defence right then that can drive everything else.
"We played some amazing defence last time out. That's the key right now and we're looking forward to doubling down on that defence for the rest of the season. 
"Our defence positively impacts the offence and we've got some great energy at both ends of the court."
Tickets for Saturday's semi-final are available now from the Newcastle Eagles Box Office.