After a double-dose weekend of Eagles BBL action, the latest All-Star Five sees a double placing of our guys in Rahmon Fletcher and Brandon Peel
Rahmon Fletcher led us to end a five-game losing run with a tense overtime victory against Manchester Giants at Vertu Motors Arena on Friday.
Fletchers scores his second All-Star Five appearance of the season after putting up a huge double-double of 32 points and 12 assists, shooting 10-17 (58%) on the inside and 9-10 (90%) at the free-throw line, including 13 points and four assists in the first quarter as Eagles got off to a fast start, and then a critical four straight free-throws in the final 30 seconds of overtime to seal the game.
Our Eagles' Brandon Peel also posted a double-double in the overtime win over Manchester, to make his first appearance in the All-Star Five since returning to these shores.
Peel finished with 18 points on 6-8 (75%) inside scoring and 12 rebounds, including five at the offensive end as Eagles had 12 second chance points, while also handing out four assists.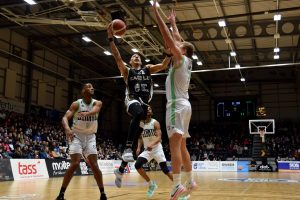 The American forward scored five points with three rebounds in overtime, including the basket that opened the extra period, and a pair of key free-throws after grabbing a big offensive rebound inside the last two minutes.
Well done Rahmon and Brandon!