More than 1,000 students gained essential career guidance as the Eagles Community Arena hosted the business brains of the future.
Young people from across the North East descended on Newcastle to take part in the final Building My Skills session of the academic year.
And 180 business guests volunteered their time and expertise to put students through their paces in a series of industry-standard mock interviews.
Just a week after the multi-purpose ECA was transformed into an exam-ready environment for hundreds of Newcastle College students, the groundbreaking venue proved to be the perfect home for an event which nurtures the professionals of the future.
"From day one the ECA was intended to be a focal point for the local community and a place where we could celebrate the very best that the North East has to offer," said Sam Blake, Chief Executive Officer of the Eagles Community Foundation.
"The Building My Skills event is exactly what we had in mind. We are fortunate to have a very flexible venue which can be tailored to various events and this was a fantastic opportunity to showcase the ECA at its very best."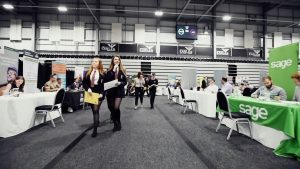 Esh Group is one of four founding partners of the award-winning Building My Skills programme. And after the company completed the ECA build earlier this year, the leading construction and built environment group was keen to return to the venue.
Andy Radcliffe, Esh Group's Chief Executive, added: "The event was extremely successful. It was a great way for young people to have a realistic experience of what they can expect in future interview situations and make connections with employers for future placements and apprenticeships.
"We encourage participation, collaboration and innovation both socially and commercially – Building My Skills, the Group's longest running programme embodies all three and its legacy is something Esh and all our business partners can be very proud of."
The Building My Skills initiative is a year-long employability skills, information and guidance programme which provides students with a rounded introduction to the world of work through five timetabled sessions, each delivered by a different business guest.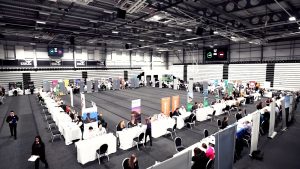 The free programme boasts a range of regional, national and international brands including Accenture, Bernicia, PwC, Northumbrian Water Group, Lloyds Bank, Hilton Hotel, Mediaworks, Visualsoft and the NHS.
Mayor of the North of Tyne Combined Authority, Jamie Driscoll, attended the ECA event and added: "It's great because when kids are going through school, often their school work doesn't seem to have that direct connection with what they're going to be doing in their lives. An experience like this is one of the best ways we can prepare kids for the future."
Aimee Moffat, from King Edward VI school in Morpeth, said: "I really enjoyed the programme and it changed my view on what employers want and expect from young people. I've seen behind the scenes of some big businesses and heard about job roles I didn't know existed."
Esh Group and the three founding business partners Ryder, Arup and Turner & Townsend are now planning the 10th instalment of the multi award-winning programme which will launch in September 2019 – engaging an estimated 14,000 students from 70 schools.
Ian Bambrough, Customer Team Lead at Northumbrian Water, said: "The event was very well organised and we were impressed with the standard of students who attended. They came prepared and had a good level of self-awareness in terms of their strengths and weaknesses."
Anna Watson, Graduate Ambassador at Northumbria University, added: "The day was organised in a way which enabled students to get the most from it. The students were fully engaged, understood the purpose of the event and provided a lot of mature answers to the questions posed."
Jayne Parsley-Walsh, Head of Culture and People at Mediaworks, said: "It was great to see so many young students fully engaged in such an important life skills event. The process will have helped provide a platform in which they can build on in the future."
The ECA will host a series of events throughout the summer before top flight men's and women's basketball returns in the autumn.
"We want people to help us realise the full potential of the ECA and reinforce our growing reputation as a go-to destination for major events," added Blake. "With ample parking and a prime city centre location we're ready to welcome more people to our new home."
For details on how to host an event at the ECA contact Sam Blake on [email protected]