Chloe Gaynor promised Newcastle's powerful frontcourt trio will put the 'Big' into The Big One as top-flight women's basketball takes centre stage this Friday.
The homecourt Eagles host high flying Leicester Riders looking to set a WBBL attendance record for the second successive season.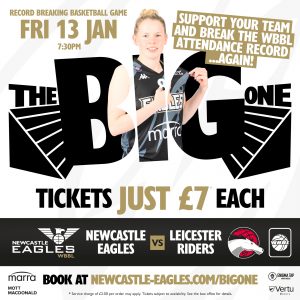 And all eyes will be on Gaynor and fellow bigs Nette Lewis and Katie Nolan as Newcastle's giant-sized offence looks to bring Jess Eadsforth-Yates' title-chasing Riders down to size.
But there's more to the new-look Eagles than bulldozing brute force as Noelia Cacheiro continues to shape an evolving roster.
And ahead of The Big One's hotly anticipated return to the Vertu Motors Arena, a fired-up Gaynor warned Leicester 'beware our killer backcourt'.
"I think opponents are waking up to the fact that we carry a unique threat inside and they're working out ways to try and combat that," she said.
"But they can't ignore the fact that Marina Fernandez and Maggie Justinak can be a killer combination in the backcourt.
"Bigs need guards and we need our guards to be at their best for us to play to our strengths.
"Maggie came into the team at a challenging period in the season and at a time when we needed someone to handle the ball and dictate the play.
"She's stepped up in the WBBL and caused problems for the opposition from day one.
"Maggie's added a different dynamic to the team — she can spot the pass but if we need her to score then she scores.
"She operates really well alongside Marina and the two of them are getting better and better together."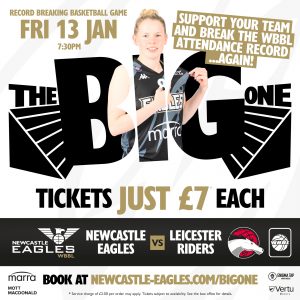 Justinak and Fernandez combined for an eye-catching 42 points, 11 assists and 11 rebounds as Newcastle eased past Nottingham Wildcats last weekend.
And the former looks certain to land inside this week's WBBL All Star five on the back of a game high 23 points in the WBBL Trophy.
Justinak should be joined by in-form team-mate Lewis who bagged 19 points, 15 boards and five assists to maintain her red-hot run of form.
And Gaynor is confident the Eagles can channel the club's famous underdog spirit and inflict a shock loss on Leicester in front of the biggest crowd of the season.
"It's great to see The Big One back and fans can look forward to a fantastic match-up this weekend," she added.
"Leicester looked impressive last time out without Hannah Robb and we know they're a well balanced and a well coached team.
"But we'll have a big crowd behind us and, as the best supported team in the WBBL, we always feel confident playing at home."
For Gaynor Friday night's showcase clash is about more than breaking records and beating one of this season's standout sides.
"It's just as much about broadening the reach of the game and showing the young people of the North East what's possible," she added.
"We're still at a stage in the game's development where we go into schools and the kids don't realise there is a top flight women's basketball team on Tyneside.
"They don't know what's possible and what exists on their doorstep.
"This is a chance for all of us to educate as well as to entertain.
"And the fact that it takes place on a Friday means we can tap into the supporters who've been following the men's team for more than 25 years.
"There are fans who turn up at the Vertu Motors Arena every Friday unaware that their club is home to a competitive women's team too.
"We'd love to share that support and to show those BBL season ticket holders what we're all about at The Big One."
Tickets for The Big One 2023 are still available from the box office and selling fast so get yours now to support women's basketball in the North East.
GET TICKETS FOR THE BIG ONE NOW