Esh Group Eagles Newcastle's veteran forward Darius Defoe has certainly turned Big Game Poacher in the last two BBL Championship wins for his side against London and Worcester, writes Jeff King.
After netting 30 points to tame the Lions two Fridays ago he was at it again this past Friday night as his 22 points helped hunt down The Wolves meaning his side go in to a mini two-week break as the only unbeaten side in The BBL, boasting an impressive 5 – 0 record.
Defoe's 30 points against London earned him the MVP award in that game as Newcastle came back from 11 points down. On Friday his 22 was a supporting role to the magnificent 37 points guard Jaysean Paige put up and the 24 added by his back-court partner Saah Nimley.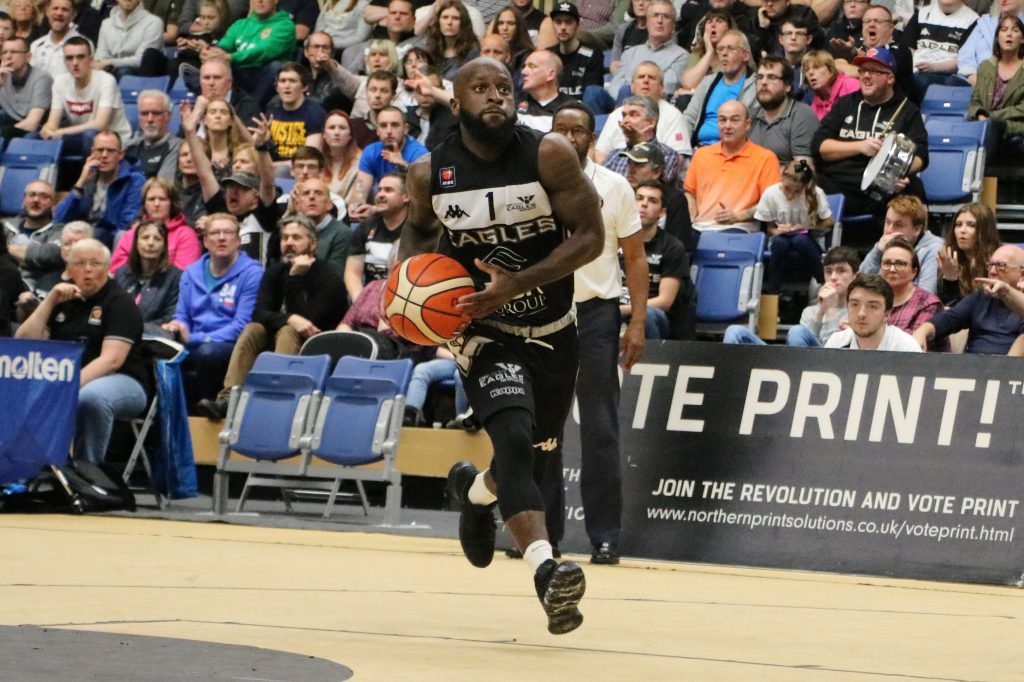 It meant that The Eagles who entered the final period down by 14, at one stage they had been down by as many as 19, before they produced a dramatic fightback for the second week in a row to take a 101 – 96 win. So, how did Defoe and his team-mates produce another astonishing turn around.
"When we play defence we're fantastic"
"Togetherness, teamwork, playing together and working it out together, that's it. Although we had to score a lot of points to get the win, it was our defence in the last quarter that helped us get there. But, we have to play the first three quarters like we did the last one to keep it all going."
"People keep saying we're an offensive team but we're not. We're a defensive team. If we play good defence, then we can get off to the races. When we play defence we're fantastic. There were a couple of periods in the game where I was like, 'wow'!"
To the basketball layman, that is, has and always will be Head Coach Fab Flournoy's mantra and Defoe who has been alongside him now for 14 straight seasons understands that more than anyone and has really stepped up in the two fabulous come from behind wins.
"We just know that if we play defence the way we can and should then we're going to be hard to beat as we have exactly the weapons to turn that defence in to offence and score lots of points at the other end. That's what happened in the fourth quarter on Friday and the Friday before."
"Every game's a big game for us"
The win, hard earned as it was, was a win that meant, with Leicester losing at home to Glasgow, that Flournoy's men even at this early stage of the season have the only 100% record in The BBL Championship.
"It's a good feeling but at the end of the day we just concentrate on ourselves and not worry about anybody else. That's what's best for us. We just make sure we take it a game at a time and try to get the win and we're not watching what anybody else is doing."
The Eagles, as stated, now move to 5 – 0 and next play, once again at home, on Friday 3rd November when Cheshire Phoenix come to Toon in a BBL Cup Quarter Final. Defoe and his team-mates will need to be ready for that one as they look to defend the one domestic trophy they currently hold.
"It's another big game but every game's a big game for us and it's also a big game for anyone that comes to play against us. So, we need to take a few days off, come back refreshed, watch some video and prepare right to defend our title and get the win we need."