It's not often you can sign a foreign international player to complete your roster as you prepare for another tough season but in Denmark's 6' 7" Zarko Jukic that's exactly what Esh Group Eagles Newcastle achieved, writes Jeff King.
The immensely athletic and talented forward is only 23-years old but has already seen action in the top-flight divisions of Denmark, Sweden and last season in Spain's LEB Gold league which many consider a step above The BBL.
And whilst the name doesn't sound Danish, his parents are Serbian, he was born and raised in Denmark along with his brother Darko, a guard, who also plays for the National Danish side.
Zarko impressed his new coaching in his early practise sessions so much, particularly defensively, that he earned a starting spot in The Eagles pre-season opener against Team USA Select and showed clearly his athletic ability and wing-span will add a different dimension to The Eagles this term.
Unfortunately, Jukic picked up a slight niggle in training last week and had to sit out last weekend's two subsequent pre-season wins but he very much believes and hopes to be back for the Betway All-Stars Basketball Tournament at London's O2 on Sunday.
"I had a check-up on Tuesday and I have a little bit of damage around the rib. But, I am able to return to practise this week and test it out and hopefully I'll be ready to go this weekend."
However, his slight problem has not stopped him from enjoying his time in Newcastle so far and getting to know the city, The Club and his team-mates.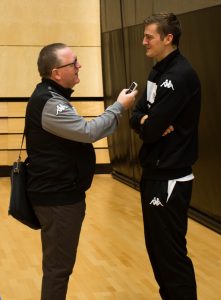 "Generally, I like this group of guys we have and all the surroundings we have basketball wise. It's a very professional set-up and a very nice place to be so far. The city itself is nice, I like a big city and it has plenty of options for things to do and I like it very much."
Looking ahead to Sunday's tournament where The Eagles face Bristol Flyers in their first game, Zarko is aware that it is something a little bit different.
"I heard some of the rules, 5-point plays and all this. I think our coaches will come up with a strategy that works best and they will know everything and we will just have to go out there and play and do our best to adapt."
"I feel like we have a very good offensive team and that's what this tournament might suit. I think we can make the power-plays work for us and as long as we stay solid on defence we should be good."
"It will be a good chance to see how other teams play and match up and although because of the rules it's difficult to predict, I think it will be good to play against teams that we'll come up against in the regular season."
"I'm looking forward to playing at The O2 Arena. I heard it's a really big one and it's always nice to see and play in new arenas and hopefully a lot of fans will be there to support an exciting tournament."
Clearly Zarko is already enjoying his time in Newcastle and is looking forward to being part of what he sees as an exciting side.
"We hang out a lot off the court as well with being new to the situation and that's working out good and helping us to come together and like I've said we have a lot of offensive talent and as long as we're consistent on defence we have a chance to have a really exciting and good season."