Fighting for a place at the finals of this year's Hoops 4 Health tournament gave fired-up pupils at Crookhill Primary a renewed sense of purpose and focus.
And the runaway winners of the Gateshead competition can't wait to compete in the end-of-season Champion of Champions event.
Laura Hedley, Year Five teacher at Crookhill, revealed: "In the past this is a tournament that the school has been successful in and it's an event we've always enjoyed.
"The children love their basketball coaching sessions and having an end goal tournament always gives that added enjoyment factor and competitive edge. 
"They enjoyed the initial Hoops 4 Health session in the Autumn term and were thrilled when the tournament meant extra coaching this term. 
"We have some big basketball fans in the school so getting to play on the Newcastle Eagles court and getting to meet some of the players after the game was a big deal for them."
Crookhill came through a 30-team qualifying tournament to clinch their place in the Gateshead Hoops 4 Health final fours.
And in front of another capacity crowd at the Vertu Motors Arena, the Ryton-based primary overcame Kelvin Grove and Glynwood to clinch the regional title.
"I was very confident as I knew we had an incredible team this year who have been training so hard," added Laura.
"They had not conceded one basket in the entire tournament so I knew they were both strong at offence and defence. 
"The games became noticeably tougher as soon as they started in the knockout rounds but we are all so proud of the children. 
"We asked them to come to school wearing their kits and medals on the Monday after the tournament so the whole school could share in their win. They were beaming all day. I personally told everyone I know!"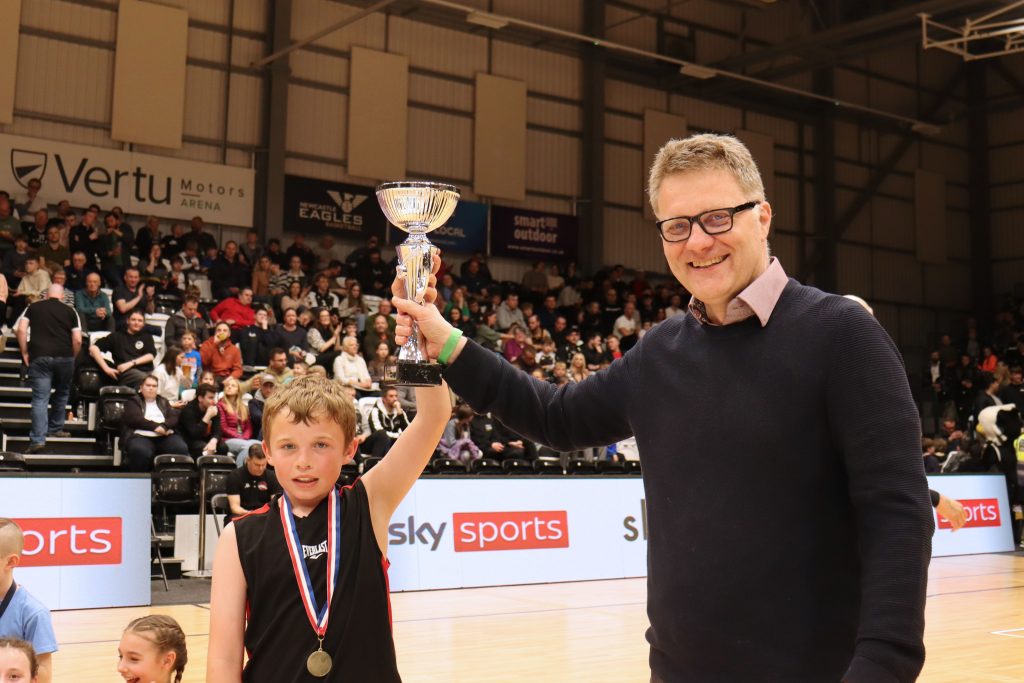 Hoops4Health engages thousands of school children across the North East every year and encourages them to eat healthily and live well.
Members of Newcastle Eagles' BBL men's and WBBL women's teams visit local schools as the familiar faces of the programme's hugely popular roadshows.
And schools are encouraged to enter teams into the regional Hoops 4 Health mixed basketball tournaments with an overall Champion of Champions event taking place each year.
"Keeping healthy overall was a big focus of the original Hoops 4 Health sessions," explained Laura.
"The pupils took on board all of the messages because they were coming from actual athletes and not just the teachers! 
"Our children have used this knowledge in PSHE lessons focusing on being Health Champions and they've been able to apply it to their daily routines — making sure they exercise at playtime and take time for wellness activities.
"Through Hoops4Health they've learnt resilience and team work.
"Some of the very sporty children think they can do everything themselves but basketball is such a team sport that some have had to learn that it's often best to pass and involve everyone."
The Gateshead Hoops4Health tournament saw 10 primary schools from across the borough converge on the Vertu Motors Arena for a competitive qualifying tournament.
Fifteen round robin games took place across five courts before a 16-team knockout stage delivered four semi-finalists.
Crookhill were joined by Glynwood Primary, Kelvin Grove Primary and St Peters RCVA with all four teams returning to the VMA on the same night Newcastle Eagles took on Leicester Riders in front of the Sky Sports cameras.
Glynwood sneaked through their semi-final against St Peters following a nervy sudden-death shoot-out and Crookhill defeated Kelvin Grove to earn their shot at success.
Robert Forrester, CEO of Vertu Motors, was on hand to present all four semi-finalists with their medals on a night to remember for Crookhill.
"Everyone is massively looking forward to the Champion of Champions event," added Laura. "The children are so excited to be a part of that tournament and they're actually disappointed that they have to wait until September! 
"I think they would have played the week after the Gateshead final if it was possible."