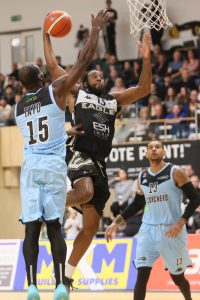 Tomorrow night's BBL Championship game against Leicester Riders is a huge one in the 2017/18 BBL season for Esh Group Eagles Newcastle and for their Captain and veteran forward Darius Defoe it could be a double celebration if he can play his part in a home town win, writes Jeff King.
The long-serving Londoner, now a true adopted Geordie, needs four field goals to reach 2,000 in his BBL career. If he puts in his usual consistent shift on Friday night, he'll no doubt complete the first part of the celebration and go along way towards satisfying the second and giving his team, a real boost going forward.
Defoe is not only now a veteran of The BBL but along with Drew Lasker and Head Coach Fab Flournoy understands the fierce rivalry that exists between Newcastle and Leicester and what Friday night's game at Northumbria University Sport Central truly means.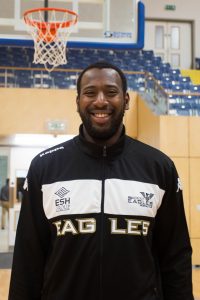 One thing he's sure about is that his side can ill-afford to play against Leicester the way they did against Surrey last Friday even if in the end The Eagles did eventually progress to the next round of The BBL Trophy.
"It was a good game last Friday and we stuck together but in that last quarter we played together, stayed together and just played hard."
"Between Newcastle and Leicester is a big rivalry going back from way back when they used to play in the other old gym, so you know it's going to be a really tough game. We can't really start like we have in the last couple of games against Leicester. Leicester is a good team. They're going to give us their best without a doubt."
"We're just going to have to come on Friday and do the same, play hard and try to get the win."
As a veteran of these clashes and understanding of what is needed to get the win in such a big game and with being Captain, Defoe has a pivotal part to play in this weekend's game.
"We'll try our best to get it through to the new guys. Like I've been saying all week, it's going to be a tough game. The refs are not going to give us the calls that we want, we just going to have to play through it, keep playing together and keep playing hard."
"They keep winning even though people say they're not as strong as last year. We just have to make sure they don't win on Friday. They are always well organised especially when they are playing us too, so we know they're going to come organised and ready to play."
"Robbie P's a good coach and he's going to have his players ready and pumped up for the game. We're going to have to match that and make sure we're ready too right from the start. Leicester v Newcastle that's the top two teams in the league going for it."
"It's one of those games you look forward too and want to play in whether you're one of the new guys or Drew, Fab and me we're all looking forward to the game. We're ready for it and we're determined to get that win."
It surely will be a real Clash of the Titan and with Defoe in The Eagle's side leading from the front, his team-mates need to follow his lead and go all out in what is a tough match-up for both sides.
Tickets are still on sale for tomorrow's huge clash between the top two in the BBL as our Eagles and Leicester Riders face-off for the first time this season. Sign-up to our email newsletter to get an instant discount on tickets to the game: