Saah Nimley joins Jaysean Paige as the second only player in the BBL to record a fourth starting appearance in the league's line-up this week with Drew Laker starring off the bench.
Here's the full week 9 All-Star roster:
Saah Nimley (Esh Group Eagles Newcastle)
The Eagles' playmaker joins his team-mate Jaysean Paige on four starting spots in his rookie BBL campaign after a typically dazzling display in the road win at Bristol. Nimley was electric against Flyers and returned a classy double-double of 18 points and 10 assists.
Brandon Boggs (Bristol Flyers)
Boggs was instrumental in helping Flyers bounce back from their disappointment against the Eagles to shoot down Manchester. The guard was hugely influential as he led his side with 24 points from a super 10 of 14 shooting effort, as well as adding 4 rebounds and 2 steals.
Malcolm Riley (Cheshire Phoenix)
It was a remarkable comeback by Phoenix as they overturned a 16 point last quarter deficit against Leeds Force, with Riley playing a leading role. Much to the delight of the home fans, he finished the clash with a productive 26 points, 9 rebounds, 2 assists and 2 steals.
Kinu Rochford (Plymouth Raiders)
One of the form players in the league right now, Rochford hangs onto his starting place from last week after putting up another majestic showing. This time he spearheaded Raiders' memorable win against BBL leaders Newcastle with a 20-point and 12-rebound double-double.
CJ Gettys (Cheshire Phoenix)
The Phoenix centre had to bring his 'A game' in the thrilling win against Force in order to dig Cheshire out of a considerable hole, with Gettys landing a pivotal double-double. He garnered 20 points and 10 rebounds which led to him claiming this third starting berth of the campaign.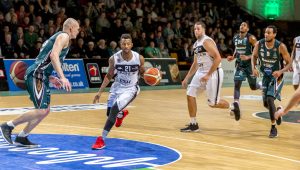 Off the bench – Elvisi Dusha (Worcester Wolves), Tony Hicks (Surrey Scorchers),Robert Sandoval (Cheshire Phoenix), Tre Bennett (Leeds Force), Jawad Adekoya (Plymouth Raiders), Drew Lasker (Esh Group Eagles Newcastle), Daniel Edozie (Bristol Flyers), Sam Toluwase (Leeds Force).