The BBL have released their dream-roster of the All-Star Five after last weekend's performances and once again there's a double showing from our Eagles with Jaysean Paige and Darius Defoe both starting.
Paige has become only the second player in the BBL this season so far to book a third appearance.
Here's the full line-up from the league:
Jaysean Paige (Esh Group Eagles Newcastle)
The recipient of the opening Molten BBL Player of the Month award for the season shows no signs of slowing down as he proved the difference-maker against Phoenix. The Eagles maintained their flawless record off the back of 24 points, 9 rebounds and 4 assists as Paige secured his spot for the third time this season.
Malcolm Riley (Cheshire Phoenix)
The shooting guard came up big for his team in their victory on the road at Leeds Force who had threatened to derail Phoenix until the visitors erupted after the break. Riley harvested an all-action and highly influential line of 19 points, 6 rebounds and 5 assists to make his season debut in our line-up.
Alex Owumi (Surrey Scorchers)
A familiar face in our fab five for many seasons, Owumi is back again for the first time this campaign after lighting it up for Scorchers in a one-sided home success against Giants. The versatile swingman came up with the goods after recording 20 points, 5 rebounds, 3 steals and 2 assists.
Kieron Achara (Glasgow Rocks)
The Great Britain favourite continues to shine, with Achara the pivotal figure as Rocks landed a vital road win at Worcester. He continued his rich vein of form as he chopped down the Wolves with 17 points from 71% shooting, whole also adding 5 rebounds,3 assists and 3 blocks in a great night of work.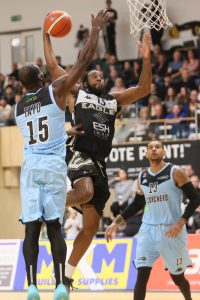 Darius Defoe (Esh Group Eagles Newcastle)
The Eagles' big man was on top form at Sport Central as the hosts outlasted Surrey Scorchers for their sixth straight league win. Defoe was dominant in the paint and finished the contest with 23 points, after going 10 of 14 from the field, while also completing a classy double-double with 11 rebounds.
Off the bench – Andy Thomson (Leicester Riders), Robert Sandoval (Cheshire Phoenix), Tyler Bernardini (Leicester Riders), Jordan Davis (Bristol Flyers), Tavarion Nix (Leeds Force) David Kadiri (Manchester Giants) Tony Hicks (Surrey Scorchers).
Our Eagles face the DBL Sharks Sheffield this Friday night at Sport Central and tickets are available now:
NEXT BBL HOME GAME