As the dust settles on the opening weekend of the 2017-18 season, the BBL have announced their first "fantastic five" with an array of new faces including and topped by two of our Eagles.
Here's the full list from the league:
Saah Nimley (Esh Group Eagles Newcastle)
The rookie enjoyed a scorching start to his BBL career after helping his new club to rack up a record victory with a massive success against Leeds Force as the Eagles made a big opening day statement. Nimley showed his scoring and creative ability with 28 points and 7 assists – as well as 4 rebounds and 2 steals.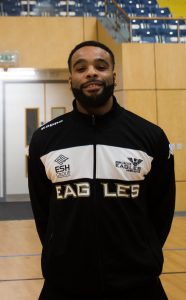 Jaysean Paige (Esh Group Eagles Newcastle)
In similar fashion to his backcourt partner, Paige also opened up with a huge debut display in the monstrous victory at Leeds. The travelling Eagles fans will have been excited by their new signing after he registered 30 points and 6 assists, with his scoring haul coming from a jaw-dropping 13 of 16 from the floor.
Mackey McKnight (DBL Sharks Sheffield)
It was a mixed first couple of games for Sharks, but after a gut-wrenching home loss to Scorchers, McKnight helped Sharks to bounce back with a vibrant victory against Glasgow in front of a huge crowd at the Emirates. He contributed 18 points, 6 assists and 2 steals in an all-action performance.
Demonte Flannigan (London Lions)
It was a perfect start to the season for London as they finished the first weekend top of the standings with a pair of wins. It was Flannigan who was the standout figure for his team as he produced a nice debut with 19 points and 6 boards last Friday in a terrific road win at Worcester Wolves.
Daniel Edozie (Bristol Flyers)
During an opening weekend absolutely dominated by guards, Edozie was one of the few frontcourt players to post a pivotal display. The powerhouse helped Flyers win the south-west derby against Plymouth with a double-double of 12 points and 11 rebounds, to support the impressive efforts of his team-mates Rhondell Goodwin and Brandon Boggs in the backcourt.
Off the bench – Gareth Murray (Glasgow Rocks), Eric Robertson (Leicester Riders), Callum Jones (Manchester Giants), Tony Hicks (Surrey Scorchers), Trayvon Palmer (Worcester Wolves), Neil Watson (Plymouth Raiders), Rohndell Goodwin (Bristol Flyers).
SaveSave