On Friday 13th October when the London Lions visited Sport Central to take on our Eagles we had another group of visitors back for the first time this season, the Rickelton family.
Mum of three, Sam is the award winning blogger behind North East Family Fun and along with husband Steve they brought the kids to see just how much fun our home games are for the whole family.
Sam wrote us the first of a number of guest blogs we will be featuring this season and here are her five reasons to watch the Eagles:
We've watched Newcastle Eagles play at home a few times over the past few years and our children take a trip to watch a game with their school on an annual basis. It's definitely one of our favourite ways to enjoy some Friday night fun with the kids and I would highly recommend taking your children to watch a home game at Sports Central.
If you've not watched a Basketball game before, you don't need to worry too much about the rules. They are easy to pick up and follow and the emphasis is definitely more on fun than the technicalities of the game. All ages are welcome from toddlers who will love the the clapping and cheering, to teens who enjoy the excitement of the fast-paced game and grown-ups who can sit back with a beer, relax and watch an entertaining game.
1. It's a Friday night out
A trip to Sports Central to watch Newcastle Eagles play with the kids provides parents with the opportunity to head out for the night without the need to book babysitters.
It may not be the bright lights of the diamond strip but they serve beer and you can feast on nachos and hot dogs with a fantastic, vibrant atmosphere with lots of fun and noise.
2. Newcastle Eagles are fantastic role models
I love that the Newcastle Eagles team are proper role models. They are fantastic to watch and at the top of their game.
Did you know that Newcastle Eagles are the most successful British Basketball team of all time? How amazing is it that we have this level of skill right on our doorstep.
The players always have time for their fans too and will happily pose for photographs after the game.
3. There's a fun, family-friendly atmosphere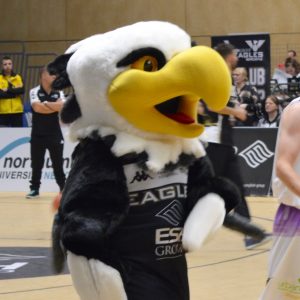 Basketball is fast-paced and pretty much end to end. There are no slow parts – it's always super quick. Fans show their support for the home team with chants around the court which you can't help but join in with and the court host will encourage you all to stamp your feet and wave your arms and try to distract the opposition.
Expect horns, foam hands, buzzers and music. Swoop (the Eagles' mascot) will join in with the cheerleading squad and hi-five the crowd, the scoreboard seems to continuously change…… and as the anticipation builds the crowd all end up on their feet for the final 2 minutes which are really electric and exciting.
I promise your kids will leave an Eagles match beaming from ear and ear and will ask to come along again the following week.

4. Expect lots of fun games, giveaways and prizes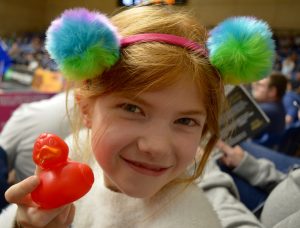 When you spend an evening watching watching Newcastle Eagles, you'll experience so much more than just a Basketball game.
There are raffles, the chance for kids to play on court, photo opportunities, shoot-outs, games, cheerleaders, food and drinks, fun with the mascot……so much going on!
Newcastle Eagles also run a fantastic community programme and are often found out and about in schools so your children may recognise a few of the famous faces playing.
5. Central location & discounted tickets are available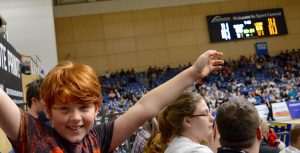 Newcastle Eagles home games are held at Sports Central at Northumbria University which is right in the heart of Newcastle.
We usually catch the bus into Newcastle but you can also drive or get the Metro too – lots of options!
You can pre-book tickets online and if you sign up to receive the Newcastle Eagles newsletter, you'll gain access to exclusive discounts which is definitely worth doing.
Sign Up To The Newsletter: