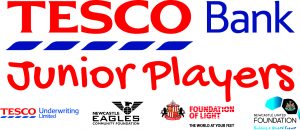 This week Eagles' guard Drew Lasker joined two North East football legends, Sunderland's Kevin Ball and Newcastle United's Bob Moncur, along with pupils from Balliol Primary School to launch year two of Tesco Bank Junior Players community sports programme.
Last year the programme saw over 18,500 primary school pupils from across the region get fit and active by taking part in basketball and football sessions led by the Foundation of Light, Newcastle United Foundation and our Eagles Community Foundation.
The three Community Foundations, in partnership with Tesco Bank and Tesco Underwriting, have combined to develop a unique sports programme, which gives young people in the region the opportunity to take part in physical activity through the power of sport and receive expert tuition from highly qualified coaches.
Children from Balliol Primary School, who will be participating in the programme, attended the launch at Tesco Bank's Newcastle base and were put through their paces.
Meeting the children and representatives of the foundations at the launch, Iain Harnett, Tesco Bank's Customer Service Director said "We are delighted to continue our Junior Players programme into a second year.
"We focus on creating opportunities for young people and encouraging healthy choices which are aims shared with all three of the Foundations. We are a major employer in the North East and this programme allows us to give something back to the communities which have supported us."
Sam Blake, CEO of our Eagles Community Foundation, said "It's amazing to have the opportunity once again, to partner up with Tesco Bank and a host of community driven partners to help bring our sport to children across the north east.
"Last year was a huge success and we look forward to helping make the coming year an even better one."
After leading a coaching session with the Balliol students, Drew Lasker shared his enthusiasm for the second year of the programme, adding "Basketball is a great team sport to get kids active and have fun. It helps teach important life lessons such as fair play and teamwork, in an environment which is perfect for families!"
You can find out more about Tesco Bank Junior Players in the community foundation section of our website.