At half-time this Friday night as our Eagles take on the Bristol Flyers, we have some very special entertainment for fans packing out our Eagles Community Arena as 20-year-old local hip-hop artist Kay Greyson performs live.
Kay is from the West End of Newcastle, only steps away from our new home, and has been an avid basketball and Eagles fan since attending games when was very young. The arena, club and our foundation are all very excited for her to become the first live act to perform on the court.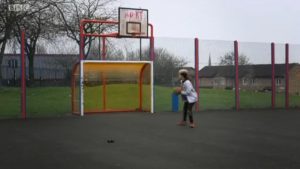 You may have seen her on BBC Inside Out North East this week and she's looking forward to bringing her witty and energetic performance style to our arena on Friday night.
Greyson leads with her personality, telling personal and sometimes dark stories in her lyrics but delivering them with youthful joy and enthusiasm.
She uses her rap to help the local community and inspires the next generation, taking her skills into Excelsior Academy and says the pupils do not realise rap teaches them future life skills.
Tickets for this Friday night's game against Bristol Flyers with the half-time live performance from Kay Greyson are on sale now: