| | | | | | | | |
| --- | --- | --- | --- | --- | --- | --- | --- |
| London Lions | 17 | 19 | 19 | 22 | 2 | 79 | Loss |
| Eagles | 19 | 19 | 16 | 23 | 12 | 89 | Win |
Welcome back British Basketball League! A stunning game of intense high-energy basketball saw Newcastle Eagles win the first game of the new season down in London.
What an absolute thriller it was as The Eagles picked up where they left off last season.
The last game of the 2019/20 season way back in March saw the game's most storied franchise take their 25th National Final victory in overtime to win The BBL Trophy. This time in another cup game they went to overtime again before prevailing on the road in sensational style.
Watch highlights from the game:
Down by three at 77 – 74 with less than two seconds on the game clock left new USA import Justin Gordon hit a huge triple to level a game that had ebbed and flowed throughout to take us into an extra five-minute period. That's when Newcastle produced a stunning finish to the contest.
With the contest still tied at 79 – 79 it was Gordon who put the Eagles in front. Then up stepped another new Eagle to fire the final daggers into The Lions hearts. Louis Sayers became an instant Newcastle hero hitting back-to-back triples.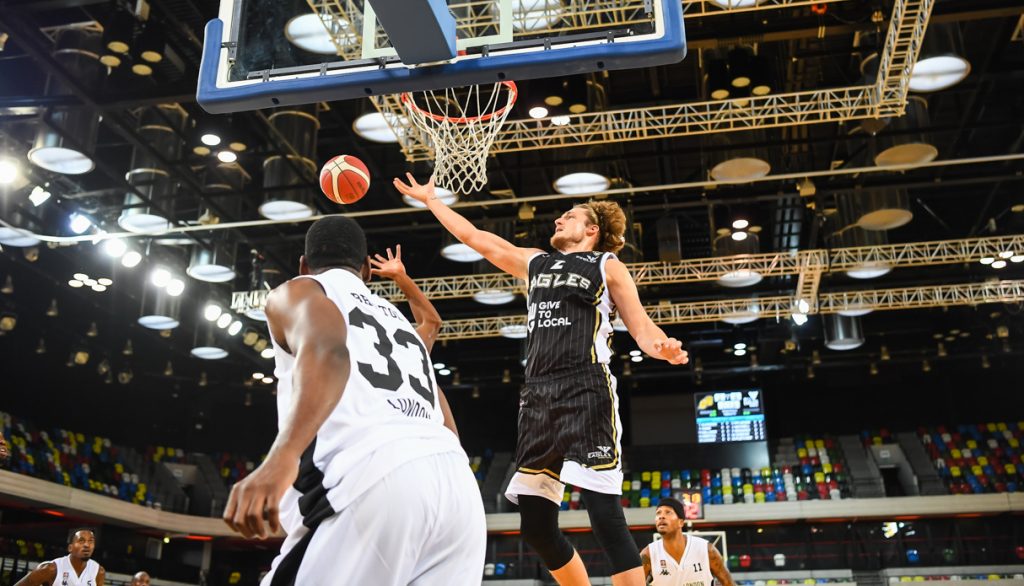 His dead-eye accuracy under pressure sealed the deal for his side with Gordon finishing the game with a deuce to finish off London and seal his MVP performance with a game-high 24 points as Newcastle took the win with ten unanswered points.
Gordon was superb throughout and added an incredible 17 rebounds to his points tally but he was only the focal point of an exceptionally good all-round team performance. Fellow American Evan Maxwell had been the star of the first twenty minutes with 12 personal to show his worth.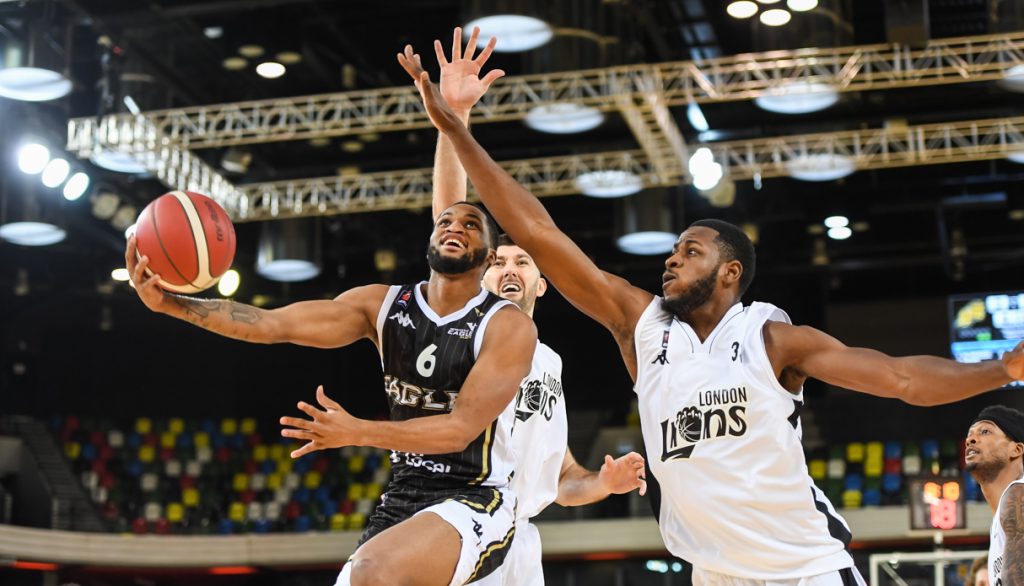 Mercurial point guard Rahmon Fletcher led his side superbly throughout and added 8 assists to his 15-points and Sayers was joined on 11 points by veteran Darius Defoe. The latter two giving superb support from the bench.
The other two new Eagles Rex Pflueger and Cortez Edwards also played a huge part in the victory. Both had 8 points personal with Edwards also adding 7 rebounds and 9 assists in a great all-round display.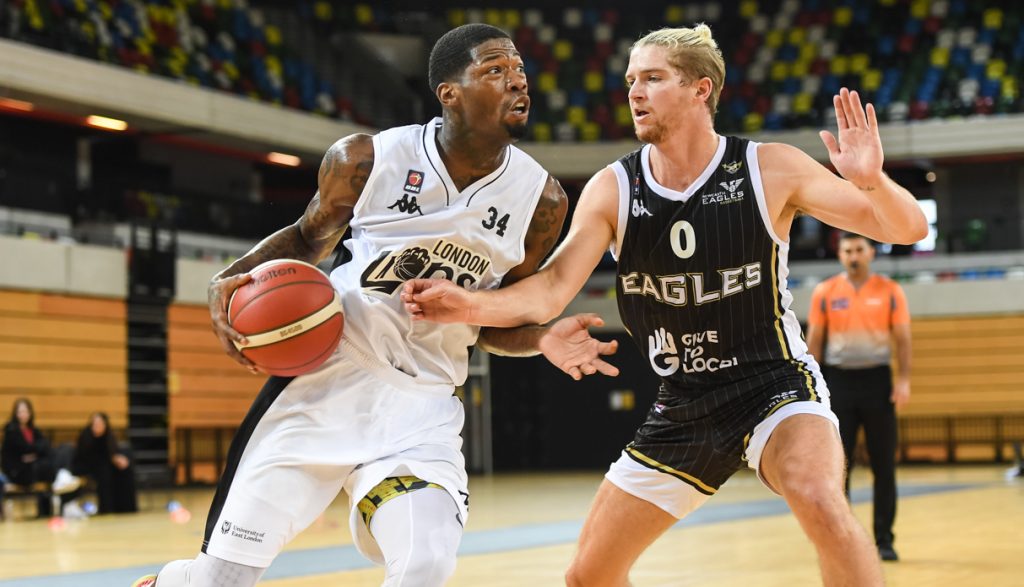 The game itself was tight throughout with neither side ever truly having the ascendency. Eagles mainly through Maxwell led early but London with Deandre Liggins lively and the smooth scoring of ex-Sheffield Shark Dirk Williams keeping them well in the game.
Newcastle edged the first ten minutes 19 – 17 and increased that lead to seven on the back of a Sayers triple and a Defoe inside bucket. Back came Lions though and three consecutive triples swung the game back in their favour before Maxwell and Gordon gave the visitors a 38 – 36 half-time lead.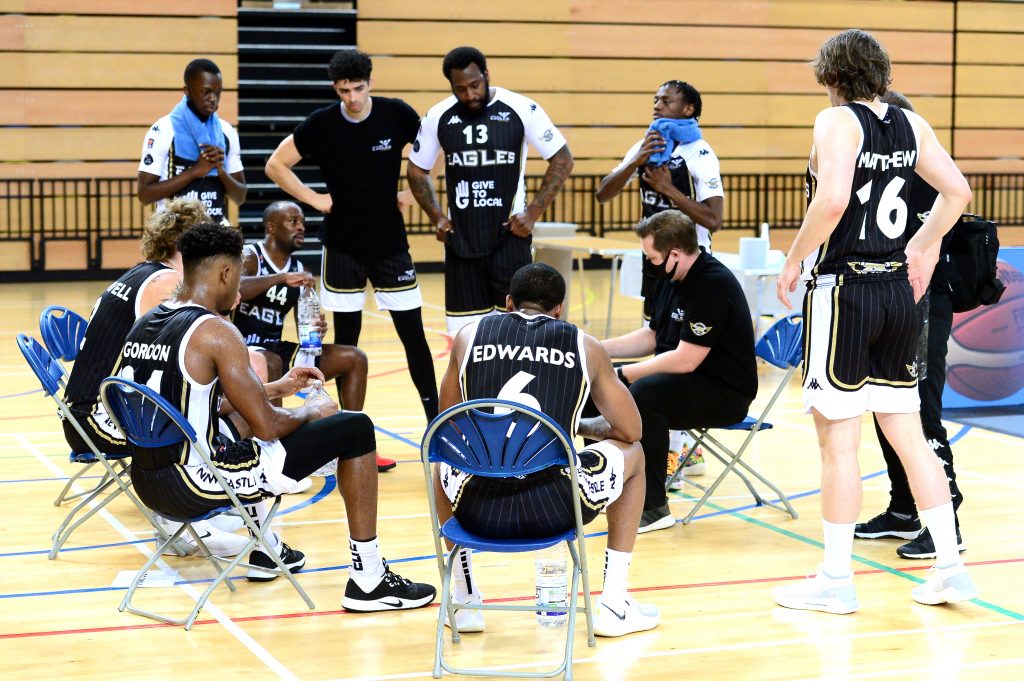 The home side just about held sway in another closely fought quarter taking the third period by three points to take a 55 – 54 lead into what was supposed to be the final ten minutes. An Edwards triple late on put the visitors up by three at 70 – 67. But Lions weren't finished.
A strong 10 – 4 run with Kevin Ware hitting a brace of triples looked to have done enough to sneak a win for the pre-season BBL Cup favourites until Gordon stepped up with that dramatic late levelling triple.
Head coach Ian MacLeod fist-pumps after picking up the first win in the 2020-21 BBL season:
Then it was down to a brilliant extra-five minutes from Head Coach Ian MacLeod's never-say-die troops that gave him and they a perfect start to the season in a fabulously exciting opening contest. Early days no doubt but quite a marker laid down by Newcastle Eagles.